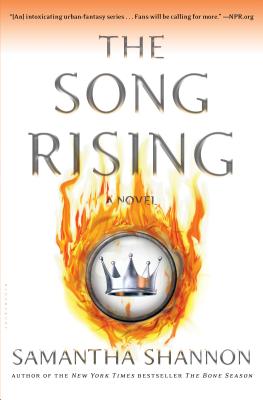 The Song Rising (The Bone Season) (Hardcover)
Bloomsbury USA, 9781632866240, 384pp.
Publication Date: March 7, 2017
Other Editions of This Title:
Paperback (3/6/2018)
Hardcover (3/7/2017)
Hardcover, Large Print (5/3/2017)
MP3 CD (8/4/2017)
* Individual store prices may vary.
Description
The magnificent new book in the New York Times-bestselling series: a fantastic tale of rebellion and courage against enormous odds.
Following a bloody battle against foes on every side, Paige Mahoney has risen to the dangerous position of Underqueen, ruling over London's criminal population.
But, having turned her back on Jaxon Hall and with vengeful enemies still at large, the task of stabilizing the fractured underworld has never seemed so challenging.
Little does Paige know that her reign may be cut short by the introduction of Senshield, a deadly technology that spells doom for the clairvoyant community and the world as they know it . . .
About the Author
Samantha Shannon was born in West London in 1991. She started writing at the age of fifteen and studied English language and literature at St. Anne's College, Oxford. The Bone Season, the first in a seven-book series, was a New York Times bestseller and the inaugural Today Book Club selection, and was named one of Amazon's Best Books of the Year. Film rights were acquired by the Imaginarium Studios and 20th Century Fox. The Mime Order, the second in the series, was also a New York Times bestseller. Her work has been translated into twenty-six languages.
@say_shannon
www.theboneseason.com
Praise For The Song Rising (The Bone Season)…
"This is an ebullient, gloriously complicated fantasy . . . Shannon unravels her tangled tale in galloping prose . . . Very satisfying." - Daily Telegraph
"Like treasures unearthed by mudlarks, Samantha Shannon's alternative world is studded with fabulous language: mime queens and mime lords have their mollishers; gutterlings jostle with amaurotics in the meatspace; the country groans under the rule of the Scion Republic. With a sharp eye on the politics of identity, Shannon transports us into a world where the oppressed are pitted against one another in the struggle for survival." - Daily Mail
"Never less than captivating. A tantalizing, otherworldly adventure with imagination that burns like fire." - Kirkus Reviews
"Shannon's exploration of a futuristic, perilous Europe remains engaging and evocative . . . The narrative is fueled by a constant sense of tension, as well as both internal and external conflict." - Publishers Weekly
"Evocative, smart, and exciting . . . Shannon vividly and purposefully realizes each meticulously detailed setting, from London's underground to outposts in Scotland, while infusing her imaginative, passionate, and gripping saga with profound insights into humankind's long, bloody history of tyranny and the radiant ones who zealously fight for freedom and justice." - Booklist
"Fans will be rewarded with more character backstory, and new double agents on both sides of the insurgency . . . [The Song Rising] mirror[s] current debates on immigration, violence, and equality. It is within the descriptions of this clairvoyant world that Shannon's writing shines." - Library Journal
"[Shannon] captures the city [of Edinburgh] with a particular kind of precision, especially the relationship between power and strength, and those who benefit from neither . . . This series of books [is] easily the most politically engaged of any of the contemporary dystopian fantasies." - Scotland on Sunday
"The third book sees feisty heroine Paige Mahoney take on the dangerous role of Underqueen, ruling over London's criminal population." - The Daily Express
"[Samantha Shannon's] brilliance is that she is not afraid of change, both for her characters and her setting . . . The 25-year-old remains a name to watch." - The Independent