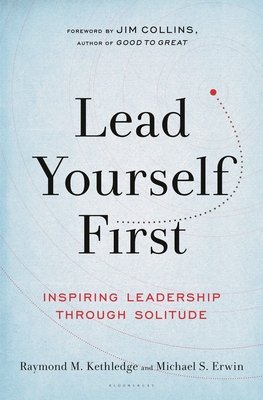 Lead Yourself First
Inspiring Leadership Through Solitude
Paperback

* Individual store prices may vary.
Other Editions of This Title:
Hardcover (6/13/2017)
MP3 CD (4/10/2018)
Description
"Lead Yourself First makes a compelling argument for the integral relationship between solitude and leadership." --The Wall Street Journal

Throughout history, leaders have used solitude as a matter of course. Martin Luther King found moral courage while sitting alone at his kitchen table one night during the Montgomery bus boycott. Jane Goodall used her intuition in the jungles of central Africa while learning how to approach chimps. Solitude is a state of mind, a space where you can focus on your own thoughts without distraction, with a power to bring mind and soul together in clear-eyed conviction. But these days, handheld devices and other media leave us awash with the thoughts of others. We are losing solitude without even realizing it.

To find solitude today, a leader must make a conscious effort. This book explains why the effort is worthwhile and how to make it. Through gripping historical accounts and firsthand interviews with a wide range of contemporary leaders, Raymond Kethledge (a federal court of appeals judge) and Michael Erwin (a West Pointer and three-tour combat veteran) show how solitude can enhance clarity, spur creativity, sustain emotional balance, and generate the moral courage necessary to overcome adversity and criticism. Anyone who leads anyone--including oneself--can benefit from solitude. With a foreword by Jim Collins (author of the bestseller Good to Great), Lead Yourself First is a rallying cry to reclaim solitude--and all the benefits, both practical and sublime, that come with it.
Praise For Lead Yourself First: Inspiring Leadership Through Solitude…
"A thoughtful new book Lead Yourself First . . . tells the stories of many inspiring leaders throughout history who relied on solitude at crucial moments in their lives, from Winston Churchill and Pope John Paul II to Martin Luther King Jr. and Aung San Suu Kyi . . . But as the authors point out, you don't have to lead armies, corporations, or artistic movements to benefit from solitude." —The Washington Post

"Lead Yourself First makes a compelling argument for the integral relationship between solitude and leadership." —Wall Street Journal

"This thoughtful self-improvement guide from Kethledge, a Sixth Circuit judge, and Erwin, founder of the nonprofit Positivity Project, is a must-read for leaders who take their leadership roles seriously. It is a book to digest slowly, a powerful narrative . . . . This book is a rare gem, offering an optimistic message." —Publishers Weekly
Bloomsbury Publishing, 9781632866325, 240pp.
Publication Date: October 9, 2018
About the Author
Raymond M. Kethledge is a judge on the United States Court of Appeals for the Sixth Circuit and was a candidate for the Supreme Court in 2018. He formerly served as a law clerk to Justice Anthony Kennedy and founded his own law firm. He lives near Ann Arbor, Michigan.

Michael S. Erwin is a graduate of West Point and served three tours in Afghanistan and Iraq. He is now the CEO of the Character & Leadership Center, the president of the Positivity Project, and the founder and chairman of Team Red, White & Blue. He lives in North Carolina.