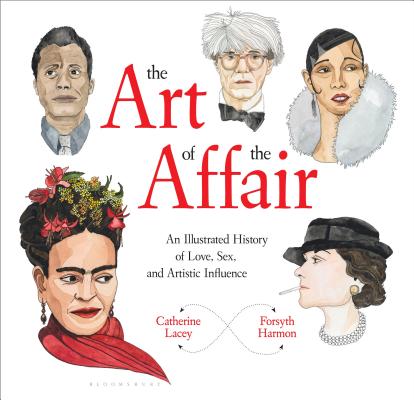 The Art of the Affair
An Illustrated History of Love, Sex, and Artistic Influence
Hardcover

* Individual store prices may vary.
Description
A vibrantly illustrated chain of entanglements (romantic and otherwise) between some of our best-loved writers and artists of the twentieth century--fascinating, scandalous, and surprising.

Poet Robert Lowell died of a heart attack, clutching a portrait of his lover, Caroline Blackwood, painted by her ex-husband, Lucian Freud. Lowell was on his way to see his own ex-wife, Elizabeth Hardwick, who was a longtime friend of Mary McCarthy. McCarthy left the father of her child to marry Edmund Wilson, who had encouraged her writing, and had also brought critical attention to the fiction of Anaïs Nin . . . whom he later bedded. And so it goes, the long chain of love, affections, and artistic influences among writers, musicians, and artists that weaves its way through the The Art of the Affair--from Frida Kahlo to Colette to Hemingway to Dali; from Coco Chanel to Stravinsky to Miles Davis to Orson Welles.

Scrupulously researched but playfully prurient, cleverly designed and colorfully illustrated, it's the perfect gift for your literary lover--and the perfect read for any good-natured gossip-monger.
Praise For The Art of the Affair: An Illustrated History of Love, Sex, and Artistic Influence…
"Novelist Catherine Lacey and the illustrator Forsyth Harmon team up to draw (literal) lines between artists' marriages, flings, rivalries and assorted other connections. Some couplings in the survey are better known than others; some were more fully consummated than others. Wending its way through Arthur Miller and Marilyn Monroe, Anaïs Nin and Gore Vidal, the book ends with Laurie Anderson and Lou Reed, who, Lacey writes, 'seemed to have had the sort of relationship we should all aspire to.'" - New York Times Book Review

"This gorgeously illustrated book charts the multiple connections that various artists and creatives of the 20th century had with one another. It's impossible not to lose yourself in the intimate, deliciously scandalous details . . . and to feel a real connection as you look into the deep-set eyes of Caroline Blackwood or a vicarious thrill at the way a cigarette dangles out of Juliette Greco's open mouth." - Nylon

"A dose of naughtily narrated A-list gossip--from Colette to Ellington, Kahlo to Mapplethorpe." - Elle Magazine, "The 4 Books You Need to Read This January"

"What's compelling about the snapshots of relationships portrayed in The Art of the Affair is not that they are impossible to truly understand, but that they open up the possibilities of further understanding, the invitation to advance beyond the fun romantic nostalgia that draws us to these stories." - VICE

"A guide to some of the more avant-garde relationships of the past century . . . Some of the fun lies in its choose-your-own-adventure structure, following arrows back and forth across decades and marriages. . . . [T]he perfect coffee-table book for the starving artist in your life." - Washington Post

"[A] bright, beautiful gem of a book." - Nylon

"The book is a reminder that art is not created in a vacuum, but arises out of the chemistry, envy, and camaraderie among those who love and create it." - Poets & Writers

"A self-professed "Illustrated History of Love, Sex, and Artistic Influence" promises a certain amount of thrill and titillation, and this one delivers . . . Harmon's watercolor portraits are vibrant with personality and transparent color . . . The visual effect is light and luminous, reminding us of the transient, almost flitting beauty of love that inspires and evaporates . . . Readers will leave these pages with newfound curiosities about, and yes, affection for, artists that weren't on their radar before. In this way, the reader can find herself caught up in some surprising and heartfelt artistic passions of her own." - National Book Review

"There's a sort of guilty pleasure that comes with reading a book illustrated on every page. Even more delicious is an illustrated book filled with exposed affairs, connected relationships, and literal-drawn-out lines of influence exposing our favorite artists from the decades gone by. When these elements come together in The Art of the Affair: An Illustrated History of Love, Sex, and Artistic Influence, the result is the most electric read with which to start the new year." - Weird Sister

"There's significant talent at work here." - Dwight Garner, New York Times on NOBODY IS EVER MISSING

"Lacey is a very gifted writer and thinker." - Daphne Merkin, The New Yorker on NOBODY IS EVER MISSING

"[Harmon's] work is youthful, nostalgic; high-fashion, low-fashion; a thought-provoking way of presenting the ordinary, the over-familiar . . . I particularly love [her] portraits." - The Le Sigh: Girl Spotlight on Forsyth Harmon
Bloomsbury USA, 9781632866554, 96pp.
Publication Date: January 3, 2017
About the Author
Catherine Lacey is the author of the novels Nobody Is Ever Missing, The Answers, and Pew, and the short story collection Certain American States. She has received a Guggenheim Fellowship, a Whiting Award, the New York Public Library's Young Lions Fiction Award, and a New York Foundation for the Arts fellowship. She has been a finalist for the Dylan Thomas Prize and the PEN/Jean Stein Book Award, and was named one of Granta's Best of Young American Novelists. Her essays and short fiction have appeared in The New Yorker, Harper's Magazine, The New York Times, The Believer, and elsewhere. Born in Mississippi, she is based in Chicago.
or
Not Currently Available for Direct Purchase