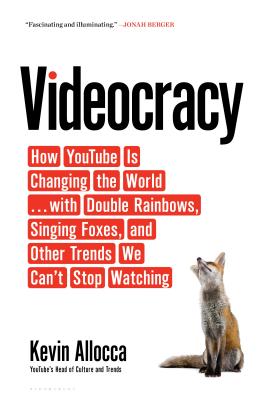 Videocracy (Hardcover)
How YouTube Is Changing the World . . . with Double Rainbows, Singing Foxes, and Other Trends We Can't Stop Watching
Bloomsbury USA, 9781632866745, 352pp.
Publication Date: January 23, 2018
Other Editions of This Title:
MP3 CD (9/3/2019)
* Individual store prices may vary.
Description
From YouTube's Head of Culture and Trends, a rousing and illuminating behind-the-scenes exploration of internet video's massive impact on our world.
Whether your favorite YouTube video is a cat on a Roomba, "Gangnam Style," the "Bed Intruder" song, an ASAPscience explainer, Rebecca Black's "Friday," or the "Evolution of Dance," Kevin Allocca's Videocracy reveals how these beloved videos and famous trends--and many more--came to be and why they mean more than you might think.
YouTube is the biggest pool of cultural data since the beginning of recorded communication, with four hundred hours of video uploaded every minute. (It would take you more than sixty-five years just to watch the vlogs, music videos, tutorials, and other content posted in a single day!) This activity reflects who we are, in all our glory and ignominy. As Allocca says, if aliens wanted to understand our planet, he'd give them Google. If they wanted to understand us, he'd give them YouTube.
In Videocracy, Allocca lays bare what YouTube videos say about our society and how our actions online--watching, sharing, commenting on, and remixing the people and clips that captivate us--are changing the face of entertainment, advertising, politics, and more. Via YouTube, we are fueling social movements, enforcing human rights, and redefining art--a lot more than you'd expect from a bunch of viral clips.
About the Author
Kevin Allocca is Head of Culture and Trends at YouTube, where he has spent more than seven years tracking and explaining trending phenomena. He is one of the world's leading experts on viral video. Allocca has given conference keynotes around the world on web video culture, including a TED Talk that has been viewed more than two million times. He's also obsessed over more videos than every teenager and serial workplace procrastinator you've ever met. He lives in New York City. @shockallocca
Praise For Videocracy: How YouTube Is Changing the World . . . with Double Rainbows, Singing Foxes, and Other Trends We Can't Stop Watching…
"This book hits home with an informative yet wildly witty examination of YouTube . . . It is worthwhile to examine the lasting impacts of social media platforms." - San Francisco Chronicle, "Top Shelf"
"With his long history and familiarity with YouTube, Allocca provides engaging examples to show how everyday people are using technology with aims toward social justice and critical awareness, unfiltered by mainstream media outlets . . . Videocracy is conversationally written and is an enjoyable read, whether you choose a surface reading or carry Allocca's speculation to deeper critical analysis. That the book allows both is certainly one of its strengths." - PopMatters
"Offering an insightful and nostalgic backstage tour, Kevin Allocca reveals how YouTube tells our collective story. YouTube is not just an entertainment medium; it is a platform for the curation of what matters to us all. Kevin shows how the active participation of YouTube's audience has changed all of the rules of the traditional media paradigm." - Jeffrey Katzenberg
"YouTube can seem like a parallel universe--a trove of cultural data so huge it would take years to watch the content posted in a day. This 'biography' of the web-video behemoth by its trends director, Kevin Allocca, tours the technology and the clips that have trended or gone viral, from astronaut Chris Hadfield singing David Bowie's 'Space Oddity' on board the International Space Station, to Egyptian protests during the Arab Spring. Allocca examines, too, the darker side of mass cultural participation, such as the raising of troll armies." - Nature
"If video is the future of communication and entertainment, this book is a road map to the future. Inside are clues to creating better ads, music, comedy, education, and yes, cat videos." - Adam Grant, New York Times bestselling author of GIVE AND TAKE and ORIGINALS and co-author of OPTION B with Sheryl Sandberg
"Refreshingly, the author offers more than just a history of YouTube; he takes on the role of anthropologist as he riffs on the current state of popular culture and content consumption. With traditional cultural gatekeepers increasingly strained to maintain relevance and more individuals empowered to create and distribute their own content, YouTube will only grow as a major cultural force . . . [An] insightful look into the inner workings of YouTube and its wide-ranging influence." - Kirkus Reviews
"A fascinating and illuminating book. Essential reading for everyone who wants to understand the surprising power and reach of internet video." - Jonah Berger, New York Times bestselling author of CONTAGIOUS and INVISIBLE INFLUENCE
"Allocca, the head of culture and trends at YouTube, gleans cogent insights into the human psyche from his analysis of popular clips, vlogs, and communities on [YouTube] . . . [An] entertaining overview of a popular digital platform." - Publishers Weekly
"Allocca examines the role of the user in this analysis of the internationally popular video-sharing site . . . [A] thoughtful read for cultural scholars or any member of this video democracy, which is most of us." - Library Journal
"Allocca tells us pretty much everything we might want to know about YouTube, from the ridiculous numbers (the pop song Gangnam Style has been watched more than two billion times) to the effect YouTube has had on politics, policing, advertising, and television . . . This book certainly makes you think, not just about YouTube, or even the internet, but about the history of culture." - The Evening Standard