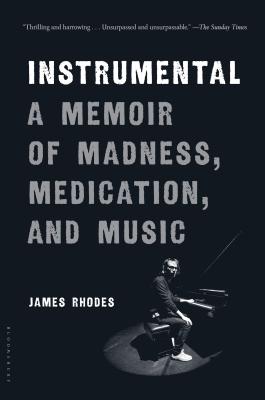 Instrumental
A Memoir of Madness, Medication, and Music
Hardcover

* Individual store prices may vary.
Description
"A mesmeric combination of vivid, keen, obsessive precision and raw, urgent energy." --Zoe Williams, Guardian

"Thrilling and harrowing . . . Unsurpassed and unsurpassable." --Sunday Times

James Rhodes's passion for music has been his lifeline--the thread that has held through a life encompassing abuse and turmoil. But whether listening to Rachmaninov on a loop as a traumatized teenager or discovering a Bach adagio while in a hospital ward, he survived his demons by encounters with musical miracles. These--along with a chance encounter with a stranger--inspired him to become the renowned concert pianist he is today.

Instrumental is a memoir like no other: unapologetically candid, boldly outspoken, and surprisingly funny--shot through with a mordant wit, even in its darkest moments. A feature film adaptation of Rhodes's incredible story is now in development from Monumental Pictures and BBC Films, following a competitive bidding war involving major U.S. and U.K. companies.

An impassioned tribute to the therapeutic powers of music, Instrumental also weaves in fascinating facts about how classical music actually works and about the extraordinary lives of some of the great composers. It explains why and how music has the potential to transform all of our lives.
Praise For Instrumental: A Memoir of Madness, Medication, and Music…
"[Rhodes] is quite good at articulating the often intractable dimensions of shame as experienced by sexual abuse survivors." - New York Times Book Review

"It was a striking year for musical memoirs. The American market got 'Instrumental,' the explosive memoir by the pianist James Rhodes depicting his addiction and mental illness in the wake of sexual abuse as a young child." - Washington Post, "10 Noteworthy Moments in Classical Music in 2017"

"In his literary debut, British concert pianist James Rhodes merges an intense, eloquent, and appropriately furious memoir with the transporting beauty of classical music. The result . . . is an all-access pass to the sublime . . . What Rhodes wants you to know is that intense beauty can coexist with unimaginable pain, and he shows you how that's possible . . . The cumulative effect of the literary concert he gives in these pages is transcendence, both for him and for the reader." - Los Angeles Review of Books

"In this triumphant and arresting memoir, Rhodes charts his ongoing recovery and journey to his place as today's most exciting classical pianist . . . Rhodes writes with an arresting charm, at times cold and clinical, shockingly self-effacing, then painfully personal and poetic--sure to register powerfully with readers with similar experiences (he gives 'trigger warnings' before the more gruesome scenes). A gripping testament to the immense tragedy of sexual abuse, the magic of music, and the power of hope." - starred review, Booklist

"You might expect James Rhodes to have been crushed by his experiences. On the contrary I don't think I've ever read an autobiography which is this exuberant, this full of life, this addictively readable." - Mark Haddon, author of THE CURIOUS INCIDENT OF THE DOG IN THE NIGHT-TIME

"Rhodes debuts with a memoir that is, in many ways, a dark, underground cavern only intermittently permeated by shafts--and sometimes floods--of light . . . [A] passionate narrative . . . A powerful story of day-to-day survival, struggle, triumph, and hope." - Kirkus Reviews

"I have rarely read so cogent an account of the nature of victimhood . . . Visceral and palpable . . . Among the most powerful pages I've read all year." - Scotland on Sunday

"There is an insight, often startling but always valuable, on almost every page . . . a tough, riveting read." - The Times

"Bravo to a survivor who refused to be silenced . . . What really marks this book out is his confrontation with the unsaid (or rarely said) aspects of child sexual abuse and mental illness . . . Some of these thoughts verge on the taboo and it takes clarity, courage and intelligence to say them as plainly and honestly as Rhodes does." - Independent

"A poet once said great books help you to live your life. They also help you survive your ruin, and James Rhodes's Instrumental is a masterpiece of creative endurance. His passion is his programme, his heart is his true instrument, and you might not read a more moral or more loving book this decade." - Andrew O'Hagan, author of OUR FATHERS

"A searingly honest, moving and compelling account of a life damaged by abuse but saved by music. James Rhodes is a rare and gifted spirit with something vital to tell us all." - Victoria Hislop, author of THE ISLAND and THE THREAD
Bloomsbury USA, 9781632866967, 304pp.
Publication Date: February 7, 2017
About the Author
James Rhodes had no formal music education until age fourteen. At eighteen, he stopped playing the piano entirely for a decade. But since returning, he has released five albums, all of which topped the iTunes classical charts. He performs in halls around the world and has made TV programs in the U.K. for the BBC, Sky, and Channel 4. His TV documentary Don't Stop the Music raised over £1 million for instruments in U.K. primary schools. Rhodes lives in London. @JRhodesPianist