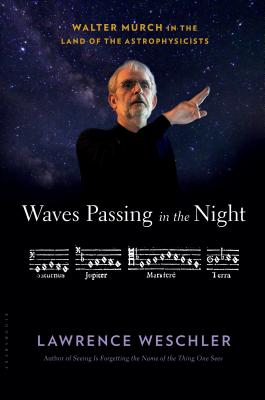 Waves Passing in the Night
Walter Murch in the Land of the Astrophysicists
Hardcover

* Individual store prices may vary.
Description
From Pulitzer Prize nominee Lawrence Weschler, a fascinating profile of Walter Murch, a film legend and amateur astrophysicist whose investigations could reshape our understanding of the universe.

For film aficionados, Walter Murch is legendary--a three-time Academy Award winner, arguably the most admired sound and film editor in the world for his work on Apocalypse Now, The Godfather trilogy, The English Patient, and many others. Outside of the studio, his mind is wide-ranging; his passion, pursued for several decades, has been astrophysics, in particular the rehabilitation of Titius-Bode, a long-discredited 18th century theory regarding the patterns by which planets and moons array themselves in gravitational systems across the universe. Though as a consummate outsider he's had a hard time attracting any sort of comprehensive hearing from professional astrophysicists, Murch has made advances that even some of them find intriguing, including a connection between Titius Bode and earlier notions--going back past Kepler and Pythagorus--of musical harmony in the heavens. Unfazed by rejection, ever probing, Murch perseveres in the highest traditions of outsider science.

Lawrence Weschler brings Murch's quest alive in all its seemingly quixotic, yet still plausible, splendor, probing the basis for how we know what we know, and who gets to say. "The wholesale rejection of alternative theories has repeatedly held back the progress of vital science," Weschler observes, citing early twentieth-century German amateur Alfred Wegener, whose speculations about continental drift were ridiculed at first, only to be accepted as fact decades later. Theoretical physicist Lee Smolin says "It is controversy that brings science alive"--and Murch's quest does that in spades. His fascination with the way the planets and their moons are arranged opens up the field of celestial mechanics for general readers, sparking an awareness of the vast and (to us) invisible forces constantly at play in the universe.
Praise For Waves Passing in the Night: Walter Murch in the Land of the Astrophysicists…
"Part scientific detective story and part reflection on science and its relation to its own history and social reality. . . . Absorbing. . . . Weschler is one of our great writers." - NPR.org

"Richly suggestive . . . the relationship that unfolds here is a vigorous and invigorating meeting of two dynamically curious minds." - San Francisco Chronicle

"Waves Passing in the Night is an investigation into contemporary astrophysics wrapped in the compelling story of a Hollywood soundtrack composer turned renegade theoretician. It all adds up to a thrilling ride through physical and mathematical space, featuring eye-opening parallels that will challenge and enhance any open-minded reader's view of the heavens." - Billy Collins

"An inviting portrait of an admirable and accomplished man. We come to see science as closed club, science as abstruse and narrow, science as caste. But Weschler allows that it could be the other way around, too: science as protector of truth and progress, science as guardian against kooks. What began as an exploration of a 'far out' but relatable idea from a 'far out' but relatable guy has become instead a study of the praxis of science. Weschler leaves us pondering how firmly we know what we think we know. Two of my favorite people have collaborated to produce a remarkable work." - Errol Morris

"Peculiar and beautiful. . . Waves Passing in the Night: Walter Murch in the Land of the Astrophysicists. . . questions the insular and self-protecting nature of science, as the practice of a community of scientists, but it does it for the sake of opening up dialogue rather than shutting it down and it does so in the most humane and quizzical ways." - Democracy in Crisis

An amateur scientist investigates oddly musical mysteries in the motion of the planets in this scintillating true-astronomy saga. . . Weschler remains sympathetic to both sides in this debate between an inspired novice and skeptical pros, expanding it into a fascinating lesson on the nature of scientific understanding and the ways people seek it." - starred review, Publishers Weekly

"[An] altogether engrossing and entertaining essay on fringe science." - Booklist

"A marvelous book, full of wonders and delights. Lawrence Weschler describes Walter Murch and his celestial theories in a way that lights up the reader's mind like a pinball machine." - Ian Frazier

"Riding waves and crests of inspired speculation, Lawrence Weschler's brilliant new missive takes readers to the outer limits of an astronomical theory abandoned long ago, as it finds wobbly new life in the mind of an unexpected tinkerer. This lively guide to film editor Walter Murch and his 'gravitational astro-acoustics' is a genuine treat." - Geoff Manaugh, author of BLDGBLOG and A BURGLAR'S GUIDE TO THE CITY

"Everything That Rises ultimately offers not just the quirks of one man's vision but a sublime way of seeing." - Boston Globe on EVERYTHING THAT RISES

"Weschler's graceful collection of essays and interviews stands out like a rare bloom. Charming, idiosyncratic and deeply intelligent, the book will likely captivate even readers who usually bypass the art history section." - starred review, Publishers Weekly on EVERYTHING THAT RISES

"Seeing Is Forgetting and True to Life are not only about the artists talking to Weschler or, through him, to each other; they're about the artists talking to themselves. - David Ulin, Los Angeles Times Book Review

"Weschler has charted [Robert Irwin's] journey with exceptional clarity and cogency. He has also, in the process, provided what seems to me the best running history of postwar West Coast art that I have yet seen." - Calvin Tomkins on SEEING IS FORGETTING THE NAME OF THE THING ONE SEES
Bloomsbury USA, 9781632867186, 176pp.
Publication Date: January 31, 2017
About the Author
Lawrence Weschler, a longtime veteran of the New Yorker magazine and a regular contributor to NPR, is the director emeritus of the New York Institute of the Humanities at NYU, and the author of nearly twenty books, including Seeing is Forgetting the Name of the Thing One Sees, Mr. Wilson's Cabinet of Wonder, Everything That Rises, and Vermeer in Bosnia.
or
Not Currently Available for Direct Purchase