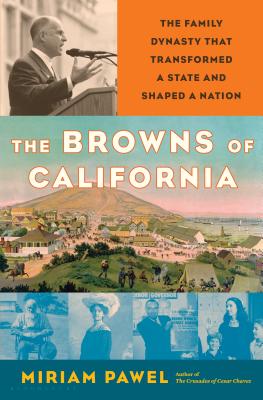 The Browns of California
The Family Dynasty that Transformed a State and Shaped a Nation
Hardcover

* Individual store prices may vary.
Other Editions of This Title:
Digital Audiobook (9/17/2019)
Paperback (10/15/2019)
Description
"Miriam Pawel's fascinating book . . . illuminates the sea change in the nation's politics in the last half of the 20th century."--New York Times Book Review

California Book Award Gold Medal Winner * Finalist for the Los Angeles Times Book Prize * A Los Angeles Times Bestseller * San Francisco Chronicle's "Best Books of the Year" List * Publishers Weekly Top Ten History Books for Fall * Berkeleyside Best Books of the Year * Shortlisted for NCIBA Golden Poppy Award

A Pulitzer Prize–winning journalist's panoramic history of California and its impact on the nation, from the Gold Rush to Silicon Valley--told through the lens of the family dynasty that led the state for nearly a quarter century.

Even in the land of reinvention, the story is exceptional: Pat Brown, the beloved father who presided over California during an era of unmatched expansion; Jerry Brown, the cerebral son who became the youngest governor in modern times--and then returned three decades later as the oldest.

In The Browns of California, journalist and scholar Miriam Pawel weaves a narrative history that spans four generations, from August Schuckman, the Prussian immigrant who crossed the Plains in 1852 and settled on a northern California ranch, to his great-grandson Jerry Brown, who reclaimed the family homestead one hundred forty years later. Through the prism of their lives, we gain an essential understanding of California and an appreciation of its importance.

The magisterial story is enhanced by dozens of striking photos, many published for the first time. This book gives new insights to those steeped in California history, offers a corrective for those who confuse stereotypes and legend for fact, and opens new vistas for readers familiar with only the sketchiest outlines of a place habitually viewed from afar with a mix of envy and awe, disdain, and fascination.
Praise For The Browns of California: The Family Dynasty that Transformed a State and Shaped a Nation…
"[A] wonderful and essential book." - The Los Angeles Times

"A vivid history of a political dynasty that has governed the Golden State for nearly a quarter century . . . The Pulitzer Prize-winning Ms. Pawel elucidates with sparkling prose and telling details . . . Ms. Pawel, with her extensive interviews, deep archival research and brilliant synthesis, has made an enormous contribution to the historical record." - Wall Street Journal

"Pawel's narrative is unflaggingly direct, but it also functions as deep art, for the book is actually a history of California posing as a family portrait. Whether it's the Gold Rush, Japanese internment, Free Speech Movement, Watts riots, Proposition 13 or climate change, the Brown story reflects large portions of California's past and much of its present…. A skillful portrait." - San Francisco Chronicle, "Best Books of the Year"

"Miriam Pawel's fascinating book charts four generations of the Brown family . . . Pawel bills her family saga as a 'lens through which to tell a unique history of the 31st state' but it does much more. Her engaging narrative of the politics, ideas and policies of the two Edmund Browns illuminates the sea change in the nation's politics in the last half of the 20th century." - New York Times Book Review

"Well-written and deeply researched . . . [A] rich history of California, illuminated with small historical details that are a testament to Pawel's research. In her capable hands, readers will find the Browns and California captivating subjects." - Starred Review, Publishers Weekly

"Pawel expertly mines family archives, oral histories, and interviews with contemporary sources to full and for the first time chronicle the origins and accomplishments of this remarkable clan…This fine and engaging political saga tracks both the Brown family and the growth of the state they have served." - Starred Review, Booklist

"A vivid portrait of California's land and people emerges from a sympathetic family biography . . . A well-informed history of a powerful dynasty." - Kirkus

"Pawel's illuminating history focuses on the father and son who served nearly a quarter century as California governors." - Books to Read This Month, BBC

"Pawel's narrative is unflaggingly direct, but it also functions as deep art, for the book is actually a history of California posing as a family portrait. . . . By reminding us that a single family has produced so much of the state's leadership, Pawel's skillful portrait also raises an imminent question: What's next?" - National Book Review

"In vibrant detail, Pawel introduces us to the parts of California that mattered most to the Browns, revealing how the state forged its leading political dynasty. To bring this four-generation story together, Pawel consulted archives across the state and conducted extensive interviews with Governor Brown, his family members, and longtime associates. As a result, the Brown family story is enlivened with densely textured settings and carefully selected vignettes . . . This is not a comprehensive California history disguised as political biography. This is something new: a California panorama and an intimate family portrait captured in a single frame." - Los Angeles Review of Books

"The book manages to capture the spirit and tenor of the 1960s and '70s and also explains how California developed its famous, iconoclastic culture, which sometimes makes it feel more like another nation than a state in the union." - Boston Public Radio, Best Books of the Year

"Deeply researched and engagingly written." - Commonweal Magazine

"A fascinating story of California and the family that shaped its history for over a century. It provides new insights and perspectives on the history of California. Miriam Pawel's career as a journalist/reporter and difficult-to-match scholarly credentials as a historian give her a definite assurance of style that enables her to present historical details in an enjoyable and easy-to-read prose. The major achievement of Miriam Pawel in this book is that she makes history enjoyable. It is a must-read for those interested in the history of California and its celebrated family." - Washington Book Review

"Miriam Pawel has written a remarkable book--a generational biography of a political dynasty, ranging from the California Gold Rush to the presidency of Donald Trump. She recounts the pivotal governorship of Pat Brown and the even more significant career of his son Jerry with assured prose and a keen sense of historical context. This is the engrossing saga of complicated family at the center of American political life for the last sixty years." - T.J. Stiles, Winner of the Pulitzer Prize for CUSTER'S TRIALS and THE FIRST TYCOON

"The Browns of California is a beautifully written, exquisitely researched, and magnificent example of how history can be written as biography--and biography as history." - David Nasaw, author of THE PATRIARCHY: THE REMARKABLE LIFE AND TURBULENT TIMES OF JOSEPH P. KENNEDY

"The Browns of California is a compelling, crucial read for anyone who wants to understand the state's importance on the world stage, at a time that matters more than ever. It's a fascinating history that also humanizes the enigmatic Jerry Brown, a morally courageous politician who got his start in the anti-Vietnam War movement and has become a major voice on the urgency of the nuclear threat and a leader--governing a state that is the world's sixth largest economy--in curbing the other existential threat to civilization, climate change." - Daniel Ellsberg, author of THE DOOMSDAY MACHINE

"Miriam Pawel's multigenerational portrait of the quirky, contentious, and complicated Brown family captures the sprawling history of California as well as its often self-deluding mythology. As fascinating as the state, this book is essential for anyone who wants to understand modern California." - Richard White, Margaret Byrne Professor of American History, Stanford University

"Miriam Pawel did it again. After her wonderful biography of Cesar Chávez, she masterfully writes about the influence of the Brown family in the transformation of California for more than a century. Pat and Jerry Brown, both, became governors. But theirs is not your typical political family. The letters and exchanges between Jerry, the seminarian, and Pat, the governor, are fascinating, insightful and provocative. This book wisely demonstrates that in California you can shape your own future and that second chances are real . . . if your family is behind you. The Browns of California is an essential book to understand how the United States is a country in perpetual creation." - Jorge Ramos, Univision news anchor

"The Crusades of Cesar Chavez is a biography for readers who find real human beings more compelling than icons." - Los Angeles Times

"Engrossing . . . There is so much brilliant political theater in this book that it's easy to see why Chavez is still the most celebrated Latino leader in American history." - The New York Times on THE CRUSADES OF CESAR CHAVEZ

"A zestful, dramatic, and redefining biography of the innovative, daring, and persevering activist . . . Chavez's epic story, told so astutely and passionately by Pawel, is essential to understanding today's struggles for justice and equality." - Starred review, Booklist on THE CRUSADES OF CESAR CHAVEZ

"Pawel paints a complex portrait of Chavez with all his strengths and weaknesses . . . The author's insightful, painstakingly researched, and thoughtful work makes Chavez all the more dimensional and nuanced by recognizing his failings as well as his successes. This fully rounded portrait could well be the definitive biography of this all too human figure." - Starred review, Library Journal on THE CRUSADES OF CESAR CHAVEZ

"Miriam Pawel's magnificent biography of Cesar Chavez has the force and scope of a great American novel. Here is the story of a man, from the humblest beginnings, who became a labor organizer as famous as any; here is a deeply flawed man who yearned to be a saint." - Richard Rodriguez, author of DARLING: A Spiritual Autobiography and HUNGER OF MEMORY: The Education of Richard Rodriguez, on THE CRUSADES OF CESAR CHAVEZ

"Guau! Miriam Pawel has finally given us the Cesar Chavez we deserve: neither a saint nor a bully but a complex American activist who rose to the occasion with courage, astuteness, and intuition, but was also clumsy, misinformed, and nearsighted. Written in a beautifully nuanced style and displaying enviable depth of knowledge, The Crusades of Cesar Chavez is a masterpiece. Future biographies will be measured against it." - Ilan Stavans, Amherst College, author of The United States of Mestizo

"This is a remarkable account of the life of Cesar Chavez and of his iconic struggle for justice for America's migrant farmworkers. Miriam Pawel provides a vivid narrative that is unmatched for the authenticity of its behind-the-scenes detail. That rarest of beasts, The Crusades of Cesar Chavezis at once an important historical document, and a compelling read." - Jon Lee Anderson, author of The Fall of Baghdad and Che Guevara: A Revolutionary Life

"One of the most important recent books on California history." - The Atlantic on THE UNION OF THEIR DREAMS

"An engrossing narrative that is both tragic and inspiring." - San Francisco Chronicle on THE UNION OF THEIR DREAMS
Bloomsbury Publishing, 9781632867339, 496pp.
Publication Date: September 4, 2018
About the Author
Miriam Pawel is an award-winning reporter and editor who spent twenty-five years working for Newsday and the Los Angeles Times. She was recently an Alicia Patterson Foundation Fellow and a John Jacobs Fellow at the Berkeley Institute of Governmental Studies.
or
Not Currently Available for Direct Purchase