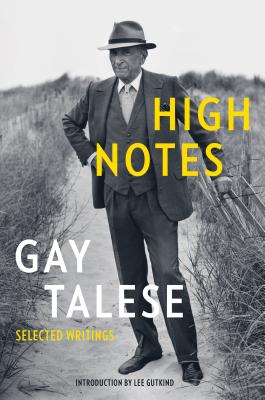 High Notes (Paperback)
Selected Writings of Gay Talese
Bloomsbury USA, 9781632867469, 288pp.
Publication Date: January 17, 2017
* Individual store prices may vary.
Description
A selection of classic high points in the illustrious career of Gay Talese.
"[High Notes] reminds us of the indefatigable reporting skills and inventive use of language that made Talese a paragon of the New Journalism." —New York Times Book Review
Admired by generations of reporters, Gay Talese has for more than six decades enriched American journalism with an unmatched ability to inhabit the worlds of his subjects. From the article that germinated into Thy Neighbor's Wife, to indelible portraits of Frank Sinatra, Tony Bennett, and Lady Gaga, High Notes selects the highlights of Talese's signature mode, "the art of hanging out." It's a bold testament to enduring literary craftsmanship and unparalleled cultural observation from "the most important nonfiction writer of his generation" (David Halberstam).
About the Author
Gay Talese is a journalist and international bestselling author whose works include The Bridge, The Kingdom and the Power, Honor Thy Father, Thy Neighbor's Wife, Unto the Sons, A Writer's Life, and The Voyeur's Motel. Winner of the George Polk Award for career achievement and considered the father of literary journalism, Talese has written for Esquire, the New Yorker, and the New York Times, and other publications. He lives in New York City with his wife Nan, the Publisher of Nan A. Talese/Doubleday.
Lee Gutkind, founder and editor of Creative Nonfiction magazine, is Distinguished Writer in Residence in the Consortium for Science, Policy & Outcomes and Professor, School for the Future of Innovation in Society, Arizona State University.
Praise For High Notes: Selected Writings of Gay Talese…
"High Notes contains all the reasons I've been teaching Gay Talese's work to my students for a decade, and all the reasons they love it. There are scenes described in such vivid detail you feel you're standing inside them; peripheral characters whom only Talese would care about and who are far more interesting than the ones in the center; details that no other writer would notice because no one has Talese's eyes and Talese's ears. This is glorious journalism." - Anne Fadiman, author of EX LIBRIS and THE WINE LOVER'S DAUGHTER
"Gay Talese once again reminds us of the indefatigable reporting skills and inventive use of language that made him a paragon of the New Journalism." - New York Times Book Review
"These pieces really amount to superb character studies that unfold less through journalistic quotation than through the novelistic accretion of well-observed details of action and setting. Talese gives readers real life raised to the level of high literature." - Publishers Weekly
"[A] career-spanning collection from Gay Talese, one of the country's greatest nonfiction writers . . . Hopping from personal recollections to mob stories to profiles about the New York Times newsroom and stars such as Frank Sinatra, High Notes consistently showcases Talese's keen eye for detail and insight into his subjects . . . once again a fly on the wall for the reader's enjoyment." - Shelf Awareness
"Wonderful and long overdue . . . The stories here are shining examples of a time in publishing history when magazine writing was an art form and Talese its Michelangelo. This reader is a book to come back to again and again." - Publishers Weekly on THE GAY TALESE READER
"Whether recounting a workaday game or taking on the monolithic topic of Muhammad Ali . . . Talese's writing possesses so much color and clear description of the world beyond the stadium that even non-sports fans will cheer." - Starred review, Publishers Weekly on THE SILENT SEASON OF A HERO