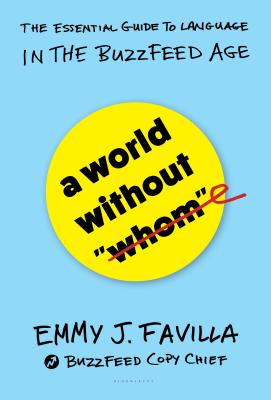 A World Without "Whom"
The Essential Guide to Language in the BuzzFeed Age
Hardcover

* Individual store prices may vary.
Other Editions of This Title:
MP3 CD (2/20/2018)
Paperback (1/22/2019)
Description
"A provocative and jaunty romp through the dos and don'ts of writing for the internet" (NYT)--the practical, the playful, and the politically correct--from BuzzFeed copy chief Emmy Favilla.

A World Without "Whom" is Eats, Shoots & Leaves for the internet age, and BuzzFeed global copy chief Emmy Favilla is the witty go-to style guru of webspeak.

As language evolves faster than ever before, what is the future of "correct" writing? When Favilla was tasked with creating a style guide for BuzzFeed, she opted for spelling, grammar, and punctuation guidelines that would reflect not only the site's lighthearted tone, but also how readers actually use language IRL.

With wry cleverness and an uncanny intuition for the possibilities of internet-age expression, Favilla makes a case for breaking the rules laid out by Strunk and White: A world without "whom," she argues, is a world with more room for writing that's clear, timely, pleasurable, and politically aware. Featuring priceless emoji strings, sidebars, quizzes, and style debates among the most lovable word nerds in the digital media world--of which Favilla is queen--A World Without "Whom" is essential for readers and writers of virtually everything: news articles, blog posts, tweets, texts, emails, and whatever comes next . . . so basically everyone.
Praise For A World Without "Whom": The Essential Guide to Language in the BuzzFeed Age…
"A provocative and jaunty romp through the dos and don'ts of writing for the internet. . . . A World Without 'Whom' provides a fascinating examination of how a modern grammar guru handles the quandaries that arise out of the dialect of social media, at a time when we are afraid--or perhaps excited--that the way we communicate online may be re-engineering our language itself." - New York Times Book Review

"Buzzy and effervescent." - The Economist

"[A] word-nerdy extravaganza . . . In an age defined by highly fluid internet slang, memes and emojis, Favilla's lighthearted, conversational book intends to allay fears of the apocalypse: Our language isn't being decimated, she argues, it's just evolving, as it always has." - Newsweek, "14 Nonfiction Books You'll Want to Read This Fall"

"As English changes, Favilla is on the front lines. . . . This is a very funny book." - The Boston Globe

"[W]itty and informative . . . This is the rare style manual that is as entertaining as it is instructive." - Publishers Weekly

"A lighthearted take on communicating in the digital age." - Kirkus Reviews

"A smart and amusing work that will appeal to those who enjoy the fun point of contact between language's inherent ambiguity and its cultural and technological biases." - Library Journal

"[A World Without "Whom"] lifts up what matters in language, namely clarity and respect for others, and grants permission to dismiss those hobgoblins disguised as 'rules.'" - Booklist

"The internet has brought a range of changes to society, not least of all to our communication. Emmy J. Favilla explores this particular evolution in A World Without "Whom": The Essential Guide to Language in the Buzzfeed Age. In true internet style, she incorporates fun emojis, quizzes, and more into her book." - Bustle, "The 13 Best New Nonfiction Books Of November 2017"

"Snappy and irreverent--but it's also thoughtful, well-informed and relentlessly commonsense. . . . While it may induce cringing among red-pen wielders, Favilla's book will also provoke (literal) LOLs and may inspire a kinder, gentler, more free-flowing approach to language for grammar nerds both traditional and modern." - Shelf Awareness

"Despite the tone of chirpy self-satire, what follows is a small revolution . . . Unlike the language scolds of yore, Favilla embraces the new ways, punctuating her writing with emoji, inserting screengrabs of instant messages, using texting shortcuts such as "amirite"? Hers is a rule book with fewer rules than orders to ignore them." - Tom Rachman, The Times Literary Supplement

"What a fab book. If Emmy Favilla ever seeks adoption, give her my number. Not enough panda jokes, but otherwise hahahahaha." - Lynne Truss, author of EATS, SHOOTS & LEAVES

"Equal parts LOL, OMG, and WTF, A World Without "Whom" is an entertaining and thought-provoking look at language in the internet age." - Erin McKean, founder, Wordnik.com

"Favilla's anti-prescriptive manifesto is an Anarchist Cookbook for writers and editors (which covers almost everyone). Sample advice: 'Nobody uses proper capitalization on Twitter'; 'LOL is "played out"'; and the all-important: 'When you publish stuff on the web, you're writing for a global audience, whether it's your intention or not.' I only threw it across the room once!" - Stephin Merritt, author of 101 TWO-LETTER WORDS

"I admire Emmy J. Favilla's passionate thoughtfulness about language as much when I agree with her--'Serial comma for president!' indeed--as when I don't--she can messenger over to my office all those poor sad discarded 'whom's, and I'll give them a good home. Tackling problems so of-the-minute I didn't even know they existed, she displays throughout this witty guide that bracing combination of open-mindedness and sheer willfulness one relishes in a word person." - Benjamin Dreyer, managing editor and copy chief, Random House
Bloomsbury USA, 9781632867575, 400pp.
Publication Date: November 14, 2017
About the Author
Emmy J. Favilla joined BuzzFeed in 2012 and is now global copy chief. She also created the BuzzFeed Style Guide, which garnered a great deal of media attention as the unofficial "style guide for the internet" when it went public in 2014. A New York University graduate, Favilla has worked as a copy editor at Seventeen, Teen Vogue, and Natural Health. She lives in New York City with a cat, a dog, and two rabbits.
or
Not Currently Available for Direct Purchase