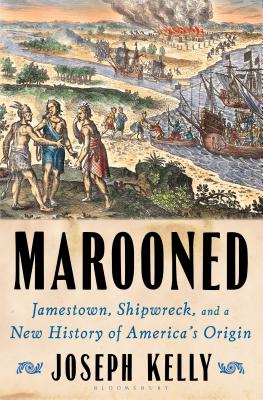 Marooned
Jamestown, Shipwreck, and a New History of America's Origin
Hardcover

* Individual store prices may vary.
Other Editions of This Title:
Digital Audiobook (1/27/2020)
Paperback (10/8/2019)
MP3 CD (1/28/2020)
Compact Disc (1/28/2020)
Description
For readers of Nathaniel Philbrick's Mayflower, a groundbreaking history that makes the case for replacing Plymouth Rock with Jamestown as America's founding myth.

We all know the great American origin story. It begins with an exodus. Fleeing religious persecution, the hardworking, pious Pilgrims thrived in the wilds of New England, where they built their fabled city on a hill. Legend goes that the colony in Jamestown was a false start, offering a cautionary tale. Lazy louts hunted gold till they starved, and the shiftless settlers had to be rescued by English food and the hard discipline of martial law.

Neither story is true. In Marooned, Joseph Kelly reexamines the history of Jamestown and comes to a radically different and decidedly American interpretation of these first Virginians.

In this gripping account of shipwrecks and mutiny in America's earliest settlements, Kelly argues that the colonists at Jamestown were literally and figuratively marooned, cut loose from civilization, and cast into the wilderness. The British caste system meant little on this frontier: those who wanted to survive had to learn to work and fight and intermingle with the nearby native populations. Ten years before the Mayflower Compact and decades before Hobbes and Locke, they invented the idea of government by the people. 150 years before Jefferson, they discovered the truth that all men were equal.

The epic origin of America was not an exodus and a fledgling theocracy. It is a tale of shipwrecked castaways of all classes marooned in the wilderness fending for themselves in any way they could--a story that illuminates who we are today.
Praise For Marooned: Jamestown, Shipwreck, and a New History of America's Origin…
"[A] stimulating history of Jamestown . . . a superb portrait of the founding, combining brilliant detail with epic sweep." - Starred review, Publishers Weekly

"An insightful re-examination of the 1607 Jamestown settlement . . . Kelly's lively, heavily researched, frequently gruesome account gives a slight nod to Jamestown as the 'better place to look for the genesis of American ideals.' " - Starred review, Kirkus Reviews

"The U.S. loves its creation myths, and this mythmaking, myth-breaking history gives us a new character, Stephen Hopkins… Though Hopkins and those like him left few records, Kelly fleshes out the available glimpses with a vivid, detailed description of the settlement and its English and Native American contexts…Kelly's dynamic narrative brings Jamestown to life and shows how history reflects the present as well as the past." - starred review, Booklist

"Kelly has woven a tapestry that is so dense in detail and so richly colored that it may become a kind of Bayeux Tapestry of the history of Jamestown." - The Roanoke Times

"Despite the volume of this book and the controversial interpretations, it makes a fast easy adventure in reading. It includes the familiar such as John Smith but so much else." - Robert S. Davis, New York Journal of Books

"Most amazing new book on early Virginia." - Anthony Comegna, Liberty Chronicles podcast

"For historians interested in the challenges of colonization, this groundbreaking work will be well received." - John Muller, Library Journal
Bloomsbury Publishing, 9781632867773, 512pp.
Publication Date: October 30, 2018
About the Author
Joseph Kelly is a professor of literature at the College of Charleston. He is the author of America's Longest Siege: Charleston, Slavery, and the Slow March Toward Civil War, and the editor of the Seagull Reader series. He lives in Charleston, South Carolina.
or
Not Currently Available for Direct Purchase