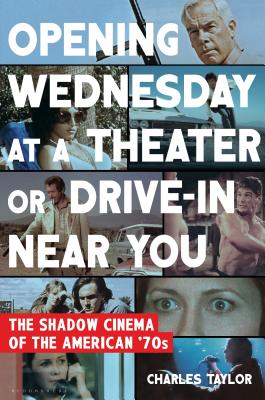 Opening Wednesday at a Theater Or Drive-In Near You
The Shadow Cinema of the American '70s
Hardcover

* Individual store prices may vary.
Other Editions of This Title:
Compact Disc (6/6/2017)
Description
"Movie criticism's Dostoyevsky . . . Taylor reveals a national identity forged from the innocence we claim to have lost but never had in the first place." --Steve Erickson, author of Zeroville
When we think of '70s cinema, we think of classics like The Godfather, Taxi Driver, and The Wild Bunch . . . but the riches found in the overlooked B movies of the time, rolled out wherever they might find an audience, unexpectedly tell an eye-opening story about post-Watergate, post-Vietnam America. Revisiting the films that don't make the Academy Award montages, Charles Taylor finds a treasury many of us have forgotten, movies that in fact "unlock the secrets of the times."
Celebrated film critic Taylor pays homage to the trucker vigilantes, meat magnate pimps, blaxploitation "angel avengers," and taciturn factory workers of grungy, unartful B films such as Prime Cut, Foxy Brown, and Eyes of Laura Mars. He creates a compelling argument for what matters in moviemaking and brings a pivotal American era vividly to life in all its gritty, melancholy complexity.
Praise For Opening Wednesday at a Theater Or Drive-In Near You: The Shadow Cinema of the American '70s…
"Brilliant . . . a vivid and expansive cultural history . . . Taylor never loses sight of (much less condescends to) these movies' gritty, visceral pleasures, but he also calls attention to their largeness of spirit, the glimmers of tenderness and melancholy they managed to conceal within their seemingly routine genre frameworks . . . superbly argued." - Los Angeles Times
"Taylor, a film-crit veteran, can neatly evoke a visual . . . You can tell when someone's writing about what they love, and whether it's the empty sky of Vanishing Point or the neurosis of Eyes of Laura Mars, Taylor's having a blast. Tying a dozen movie underdogs to a wider cultural history is just the icing on the cake. You might not love them the same way he does (he might prefer it that way), but Opening Wednesday might just get you to watch." - NPR.org
"Provocative and engaging . . . Taylor invests his study with a breadth and scope admirable for its ambition . . . A fiercely argued encomium for the socio-historical virtues of the great '70s B movies, in all their messy beauty . . . [Taylor is] engrossing and persuasive, pulling off the rare feat of turning cinema into works of cultural anthropology without losing his reader . . . He's mastered the art of film criticism as historical analysis, using these movies as a way in to the study of an America that no longer exists--and, using his movies to tee off against other, more reductive films, the idea that maybe a happier one never really did." - The A.V. Club
"An astute critic of film and popular culture in general, Taylor is often drawn to the grittier vitality of the dark underbelly. This collection of critical essays will provide revelation for many—readers who have never heard of most of these movies—but it also serves as vindication for the movie geeks who know exactly where Quentin Tarantino finds inspiration. . . . He makes readers eager to see movies that were barely seen the first time through. An illuminating collection of film criticism." - Starred Review, Kirkus Reviews
"Film and culture critic Taylor opines that many worthy 1970s movies (or at least those worthy of reconsideration) have been unfairly overlooked . . . . For each, he talks about the plot, cultural underpinnings, and sometimes troubled production histories . . . . Taylor makes a very reasonable case for reexamining each one, assisted by a most readable writing style." - Library Journal
"Film critic Taylor's first collection brings together a wondrous set of essays on 1970s American B-movies. The decade is known for classics such as The Godfather and Taxi Driver, but Taylor has chosen to highlight the pleasures of lesser-known films. . . . His essays are consistently illuminating and the reader comes away with a strong desire to track down the films he praises." - Publishers Weekly
"An interesting and frequently surprising look at a vibrant era in American film history." - Booklist
"Charles Taylor's first collection of film essays exudes energy, persuasiveness and a deep knowledge and love for movies and pop culture. He writes with a passion and unbridled enthusiasm that rivals Pauline Kael . . . Opening Wednesday is an intelligent, opinionated and fascinating introduction to some great lower-profile 1970s films. Film buffs will find Taylor's guide illuminating and indispensable." - Shelf Awareness
[Taylor] is an excellent writer with a broad knowledge of cinema and this is an important book. - LeonardMaltin.com
"Hugely entertaining and wise . . . [An] honest and brilliant critic rearranging what people ought to know about movies in an era when machines do most of the knowing." - The Buffalo News, Editor's Choice
"Film critic Taylor revisits the B movies of the 1970s and makes a passionate case for their 'grungy, visceral appeal.' Among his favorites: the blaxploitation flicks Foxy Brown and Coffy with Pam Grier, Sam Peckinpah's critical bomb Bring Me the Head of Alfredo Garcia and the 'sleazy urban chic' of Eyes of Laura Mars with Faye Dunaway." - Newsday
"A loving look at some forgotten gems and the power of moviemaking that can often be ignored." - IndieWire
"Taylor may be at his best when he looks at those '70s movies that don't fit into any easily defined genre . . . [He] has a singular voice, and that's part of the fun." - Newark Star-Ledger
"An influential and compulsively readable film critic . . . He called it like he saw it, often employing the sorts of provocative turns of phrase that spark arguments in parking lots . . . Such vivid commentary affords readers a pathway into movies." - Slant Magazine
"A beautifully-crafted, loving, angry and perceptive collection of film criticism." - A Classic Movie Blog
"Taylor's writing is sharp and insightful, funny and thought-provoking, and in his book he shines a spotlight on 15 films that--in their own 'disreputable' ways--speak deeply about the era in which they were made." - RogerEbert.com
"With Opening Wednesday, film critic Charles Taylor has written a glorious appreciation of the B-movies of the 1970s. This makes for a cinephile must-read." - The Film Stage
"Movie criticism's Dostoyevsky, Charles Taylor scribbles notes from the underground of suburban basements in the Seventies, when Americans could barely tell anymore the subversive from the square. In forgotten semi-classics like Cisco Pike and cult stars like Lee Marvin ('an almost subterranean actor'), charting heretofore unseen connections between Faye Dunaway and Mick Jagger, Taylor reveals a national identity forged from the innocence we claim to have lost but never had in the first place." - Steve Erickson, author of TOURS OF THE BLACK CLOCK, ZEROVILLE, and SHADOWBAHN
"Charles Taylor's impassioned exploration of the underside of '70s cinema is blunt about the flaws of these films but utterly persuasive about their value. This is provocative, informed, richly contextualized cultural criticism for readers to revel in, learn from, laugh with, and argue about." - Mark Harris, author of PICTURES AT A REVOLUTION and FIVE CAME BACK
"Reading Charles Taylor's Opening Wednesday is like looking in a mirror--in this case the mirror of such officially celebrated 1970s movies as The Godfather and Mean Streets. You see yourself in unfamiliar but dimly recognizable clothes that, you swear, aren't your own: slept in, utilitarian, garish, tasteless, and yet somehow beckoning, like a repressed memory. As you pass through this book, whether you know the movies Taylor dives into or not, you'll find that the book casts its own shadows: you have to see these pictures, right now." - Greil Marcus
Bloomsbury USA, 9781632868183, 208pp.
Publication Date: June 6, 2017
About the Author
Professor Charles Taylor received the U.K.'s Bragg Medal and Prize of Institutional Physics, and the UK's Michael Faraday Award for contributions to the public understanding of science. He has presented lectures on BBC television and has written many science books for children.