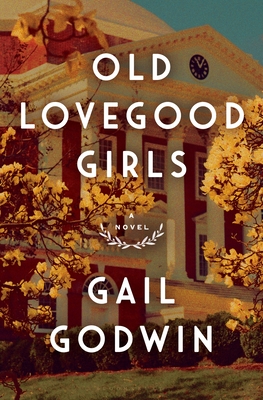 Old Lovegood Girls (Hardcover)
Bloomsbury Publishing, 9781632868220, 352pp.
Publication Date: May 5, 2020
* Individual store prices may vary.
Description
From the bestselling, award-winning author of Flora and Evensong comes the story of two remarkable women and the complex friendship between them that spans decades.
When the dean of Lovegood Junior College for Girls decides to pair Feron Hood with Merry Jellicoe as roommates in 1958, she has no way of knowing the far-reaching consequences of the match. Feron, who has narrowly escaped from a dark past, instantly takes to Merry and her composed personality. Surrounded by the traditions and four-story Doric columns of Lovegood, the girls--and their friendship--begin to thrive. But underneath their fierce friendship is a stronger, stranger bond, one comprised of secrets, rivalry, and influence--with neither of them able to predict that Merry is about to lose everything she grew up taking for granted, and that their time together will be cut short.
Ten years later, Feron and Merry haven't spoken since college. Life has led them into vastly different worlds. But, as Feron says, once someone is inside your "reference aura," she stays there forever. And when each woman finds herself in need of the other's essence, that spark--that remarkable affinity, unbroken by time--between them is reignited, and their lives begin to shift as a result.
Luminous and masterfully crafted, Old Lovegood Girls is the story of a powerful friendship between talented writers, two college friends who have formed a bond that takes them through decades of a fast-changing world, finding and losing and finding again the one friendship that defines them.
About the Author
Gail Godwin is a three-time National Book Award finalist and the bestselling author of twelve critically acclaimed novels, including Violet Clay, Father Melancholy's Daughter, Evensong, The Good Husband and Evenings at Five. She is also the author of The Making of a Writer, her journal in two volumes (ed. Rob Neufeld). She has received a Guggenheim Fellowship, National Endowment for the Arts grants for both fiction and libretto writing, and the Award in Literature from the American Academy of Arts and Letters. Gail Godwin lives in Woodstock, New York.
Visit her website at www.gailgodwin.com
Praise For Old Lovegood Girls…
"Ok, novel recco: forthcoming: Gail Godwin, Old Lovegood Girls. If you remember the 50s, here they are! Plus a looong winding female friendship taking us through the (can it be 6?) decades since. As always, wry, beady-eyed, acute. You think you think; but think again." —Margaret Atwood, via Twitter
"In this powerful, moving, and perfectly crafted novel, Gail Godwin's virtuoso dialogue and masterful handling of the passage of time illuminate the lifelong friendship of two women, college roommates who become writers-what they tell each other and what they leave unsaid, their loved ones, their dreams, their ghosts." —John Irving
"Literary treasure Godwin's shimmeringly alive new novel follows a True North female friendship through 41 years of shifting connections, love, tragedy, and the deep drama of a changing world, but it's also about so much more, like the secrets that can make or break us, and how stories can virtually save our souls, leading us to something we never realized that we needed to know. This is exactly what this gorgeous, heartbreakingly true, and profound novel does. To say it's a masterpiece is an understatement." —Caroline Leavitt, New York Times bestselling author of PICTURES OF YOU and CRUEL BEAUTIFUL WORLD
"What is it that holds us together, through years and big changes? It can feel indescribable-unless someone like Gail Godwin gets her hands on it. An award-winning, powerhouse storyteller who has brought us so many smart, heartfelt novels like Grief Cottage and Flora, Godwin delivers a glimpse into the bond sustained by two women ever since they first became friends in college." —Bookpage, "2020 Preview: Most Anticipated Fiction"
"Godwin, a word-perfect novelist of exceptional psychological refinement . . . infuses this tale of intrepid women with a profound inquiry into the ethics of storytelling and how literature can chart a way through tragedies. . . . Secret traumas are slowly revealed, adjacent characters are magnetizing, and Godwin, as fluent in humor as in sorrow, sagely illuminates matters of faith, art, ambition, and generosity while celebrating change and steadfastness, friendship and love. . . . Godwin's mastery and following grow with each book, and literary fiction lovers will seek out this intricately structured and emotionally rich tale." —Booklist, starred review
"Godwin tracks a half-century friendship between two very different yet oddly compatible women . . . [unfolding] their stories in a meditative, elliptical fashion, circling back to reveal defining moments that include tragic losses, unexpected love, and nurturing friendships. . . . Intelligent, reflective, satisfying fiction from an old master." —Kirkus Reviews
"Deeply satisfying." —Sarah Lyall, The New York Times, on GRIEF COTTAGE
"A testament to the power of storytelling to bring solace when none other is possible." —Washington Post on FLORA
"An elegant little creeper of a story." —Maureen Corrigan, NPR Fresh Air on FLORA
"Gail Godwin brings grace, honesty, and enormous intelligence to every page." —Ann Patchett on FLORA