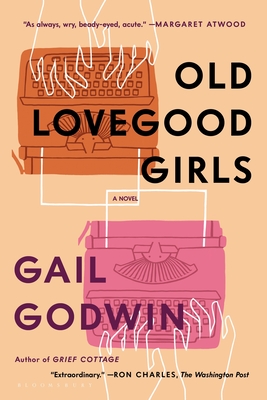 Old Lovegood Girls
Paperback

* Individual store prices may vary.
Other Editions of This Title:
Hardcover (5/5/2020)
Description
"As always, wry, beady-eyed, acute." -Margaret Atwood, via Twitter

From the bestselling, award-winning author of Flora and Evensong comes the story of two remarkable women and the complex friendship between them that spans decades.

When the dean of Lovegood Junior College for Girls decides to pair Feron and Merry as roommates in 1958, she has no way of knowing the far-reaching consequences of the match. Surrounded by the traditions and four-story Doric columns of Lovegood, the girls--and their friendship--begin to thrive. But underneath their fierce friendship is a stronger, stranger bond, one comprised of secrets, rivalry, and influence--with neither of them able to predict that Merry is about to lose everything she grew up taking for granted, and that their time together will be cut short.

Ten years later, life has led Feron and Merry into vastly different worlds. But when each woman finds herself in need of the other's essence, that spark--that remarkable affinity, unbroken by time--between them is reignited, and their lives begin to shift as a result. Luminous and masterfully crafted, Old Lovegood Girls is the story of a powerful friendship between talented writers, two college friends who have formed a bond that takes them through decades of a fast-changing world, finding and losing and finding again the one friendship that defines them.
Praise For Old Lovegood Girls…
"An extraordinary novel about the nature of those rare friendships that fade for long periods of time only to rekindle in an instant when the conditions are right again." —Ron Charles, Washington Post

"In this powerful, moving, and perfectly crafted novel, Gail Godwin's virtuoso dialogue and masterful handling of the passage of time illuminate the lifelong friendship of two women, college roommates who become writers." —John Irving

"Literary treasure Godwin's shimmeringly alive new novel . . . [is] gorgeous, heartbreakingly true, and profound . . . To say it's a masterpiece is an understatement." —Caroline Leavitt, New York Times bestselling author of PICTURES OF YOU and CRUEL BEAUTIFUL WORLD

"Godwin, a word-perfect novelist of exceptional psychological refinement . . . infuses this tale of intrepid women with a profound inquiry into the ethics of storytelling and how literature can chart a way through tragedies." —Booklist, starred review

"What is it that holds us together, through years and big changes? It can feel indescribable--unless someone like Gail Godwin gets her hands on it. An award-winning, powerhouse storyteller who has brought us so many smart, heartfelt novels like Grief Cottage and Flora, Godwin delivers a glimpse into the bond sustained by two women ever since they first became friends in college." —Bookpage, "2020 Preview: Most Anticipated Fiction"

"The publication of Old Lovegood Girls is a genuine literary event, worthy of celebration. This book marks 50 years of publishing since Godwin's debut with The Perfectionists in 1970. . . . [Godwin] is confident in her powers, an old professional in complete control, in no hurry get the story told, taking the time needed for the reader to know and understand the characters and their complicated lives. . . . Old Lovegood Girls contains plenty of story, but is also a very self-consciously literary novel, exploring the infinite variations available to a master of the form." —Alabama Public Radio

"Beautifully crafted and cerebral . . . This book is literary fiction from a master whose own remarkable literary life is evident in these pages. It is a book to be savored, pondered, and enjoyed." —Chronogram

"Godwin's style is always elegant and literary." —Atlanta Journal Constitution

"Godwin's return to subjects of female friendship, intellectual development and the passing of time are likely to be welcome distractions during this time of social distancing and homebound activities." —Asheville Mountain Xpress

"There's an old-fashioned plot. Godwin, in fact, packs in enough developments -- Vietnam casualties, the AIDS plague, dying children, dying husbands -- to pack four routine novels. . . . Old Lovegood Girls will appeal to anyone with a taste for women's fiction." —Wilmington Star News

"Gail Godwin is a prolific author who writes of real life with grace and insight. Fans are sure to enjoy her newest." —The Missourian

"A tenderly insightful, beautifully crafted, and heartbreakingly acute novel . . . Sublime." —Southern Literary Review, "Read of the Month"

"Godwin is a splendid storyteller whose tales are richly layered. . . . [an] engrossing and accomplished novel . . . Old Lovegood Girls is a fine, old-fashioned women's novel in the tradition Gail Godwin did so much to create." —Washington Independent Review of Books

"Beautifully evoking a longtime friendship's transformative power, Godwin traces two women's intellectual development and life decisions, and how they intertwine, across four decades. . . . With an unhurried pace that enables characters to develop and mature, the story delves with eloquent wisdom into a wide swath of issues: love, grief, family relationships, the value of storytelling, even (in a way that feels slyly meta) the challenges of writing historical novels. It's a fine example of introspective fiction, and an ideal read for these uneasy times." —Historical Novel Society

"Through their story, Godwin presents a narrative of what two friends tell each other and what they leave unsaid. The depth of her character's introspection may be a result of Godwin's own 80 years-plus of well-lived life. Her storytelling is powerful, emotional and long lasting well beyond the novel's final pages." —The Clarion-Ledger / Hattiesburg American's "Mississippi Books Page"

"A new novel by Gail Godwin is a treat. To enter the literary world created by Godwin is like stepping into a pleasant townhouse where spacious, sun-dappled rooms open up on the first floor. Then you notice that there are stairs, too, that may lead to other, more complex, secret, and somber spaces. . . . Bringing together a wealth of interrelated stories and characters, Old Lovegood Girls is an impressive edifice holding themes such as friendship, jealousy, writing, communication, and ways of knowing." —Southern Literary Review

"With astute pacing of her plot and perfect pitch for her characters' inner lives, she creates a satisfying and affecting novel, one that succeeds on multiple levels as she looks at life in youth and age, in joy and sorrow. And her lovely prose benefits from her precision of thought and subtlety of understatement. . . . A meditation on the landscape of friendship, whether lying fallow or in full harvest, Old Lovegood Girls also represents a brave exploration of writers and their processes and a study in resilience. And it stands on a firm foundation: Godwin's unmatched ability to weave a rich tapestry with a penetrating but kind eye." —Free Lance-Star

"Godwin crafts her novels masterfully, and brings characters richly to life." —Worcester Magazine

"Godwin tracks a half-century friendship between two very different yet oddly compatible women . . . [unfolding] their stories in a meditative, elliptical fashion, circling back to reveal defining moments that include tragic losses, unexpected love, and nurturing friendships. . . . Intelligent, reflective, satisfying fiction from an old master." —Kirkus Reviews

"A literary novel, with descriptions of the writing process and allusions to Chekhov's short stories. . . . If you are looking for a story of lifelong connection that survives through tragedy and misfortune, you may find yourself charmed by Old Lovegood Girls." —Deep South

"Gail Godwin is an American feminist writer whose work I've been reading for years, and this is her new book which I'd pre-ordered as soon as I heard it was coming. It's about two girls who meet in college and then their lives diverge in complex ways. I read it all in one go and it was great." —Jo Walton, "Reading List: May 2020" for Tor.com

"Spanning decades and moving from a traditional women's junior college in 1958 North Carolina to New York City, yet always returning to the South, the emotional interdependence of Feron Hood and Merry Jellicoe is a quiet force propelling this engaging novel." —Shelf Awareness

"It is Godwin's storytelling gift that makes the novel so very real and engaging. Readers get to truly experience the institution of friendship as she peels back all its nuances layer by layer, straight through to a deeply touching and satisfying finale." —Bookreporter.com
Bloomsbury Publishing, 9781632868237, 352pp.
Publication Date: March 2, 2021
About the Author
Gail Godwin is a three-time National Book Award finalist and the bestselling author of twelve critically acclaimed novels, including Violet Clay, Father Melancholy's Daughter, Evensong, The Good Husband and Evenings at Five. She is also the author of The Making of a Writer, her journal in two volumes (ed. Rob Neufeld). She has received a Guggenheim Fellowship, National Endowment for the Arts grants for both fiction and libretto writing, and the Award in Literature from the American Academy of Arts and Letters. Gail Godwin lives in Woodstock, New York.

Visit her website at www.gailgodwin.com