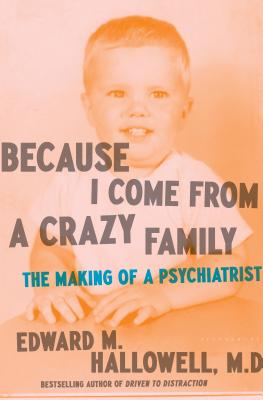 Because I Come from a Crazy Family
The Making of a Psychiatrist
Hardcover

* Individual store prices may vary.
Other Editions of This Title:
MP3 CD (9/3/2019)
Description
From the bestselling author of the classic book on ADD, Driven to Distraction, a memoir of the strange upbringing that shaped Dr. Edward M. Hallowell's celebrated career.

When Edward M. Hallowell was eleven, a voice out of nowhere told him he should become a psychiatrist. A mental health professional of the time would have called this psychosis. But young Edward (Ned) took it in stride, despite not quite knowing what "psychiatrist" meant. With a psychotic father, alcoholic mother, abusive stepfather, and two so-called learning disabilities of his own, Ned was accustomed to unpredictable behavior from those around him, and to a mind he felt he couldn't always control.

The voice turned out to be right. Now, decades later, Hallowell is a leading expert on attention disorders and the author of twenty books, including Driven to Distraction, the work that introduced ADD to the world. In Because I Come from a Crazy Family, he tells the often strange story of a childhood marked by what he calls the "WASP triad" of alcoholism, mental illness, and politeness, and explores the wild wish, surging beneath his incredible ambition, that he could have saved his own family of drunk, crazy, and well-intentioned eccentrics, and himself.

Because I Come from a Crazy Family is an affecting, at times harrowing, ultimately moving memoir about crazy families and where they can lead, about being called to the mental health profession, and about the unending joys and challenges that come with helping people celebrate who they are.

A portion of the author's proceeds of this book will go to NAMI (National Alliance on Mental Illness).
Praise For Because I Come from a Crazy Family: The Making of a Psychiatrist…
"Edward Hallowell was conceived only because his father tried to kill his mother. His work helps make sense of his 'crazy family.' " - The Guardian

"Psychiatrist Hallowell (Driven to Distraction) handily illustrates in this entertaining memoir the adage that people go into psychiatry because they want to understand themselves and their families . . . Hallowell is earnest in his assessments about his search for his life's calling." - Publisher's Weekly

"Hallowell's memoir unfolds in a humorous manner that entertains and enlightens." - Booklist

"Hallowell's many followers will seek out this account. Those unfamiliar with his work will find much to appreciate and absorb in his clear-eyed retelling of a life path that easily could have gone a different way." - Library Journal

"[A] wonderfully rendered memoir . . . One wisely observed story with personal delivery and engaging prose follows another." - Washington Independent Review of Books

"Poignant storytelling with a purpose, and a treasure for those either new to or familiar with [Hallowell's] work." - BookTrib

"[Because I Come From a Crazy Family is] Hallowell's extraordinary account of overcoming seemingly insurmountable challenges to arrive at the top of his profession . . . I think many readers would find this one hard to put down. Highly recommended." - The Bowling Green Daily News

"Rarely does enlightenment about the complexities of brain, mind, and heart meet such empathy . . . This is a book you won't want to end, since early in the course of it you'll wish you'd known Hallowell throughout his life. But when you finish it, you'll feel you have." - Paul Farmer, M.D., Ph.D., University Professor, Harvard Medical School, co-founder, Partners In Health

"We are all the products of our families--and all as crazy as they are. So the real power of this great book? Proving that none of us is alone. Powerful, harrowing, and outrageously reassuring!" - Brad Meltzer, bestselling author of THE ESCAPE ARTIST

"Poignant, unexpectedly funny, and a brilliant read, this book is thoroughly relatable for anyone who has loved a complex person, worked to learn life lessons, and tried make the world a better place. In short, all of us." - Ken Duckworth M.D., Medical Director, National Alliance on Mental Illness (NAMI)

"Dr. Edward M. Hallowell has done more than any other physician and author to help us understand the creative, complex and challenging inner worlds of children and adults with ADHD. Now, in Because I Come from a Crazy Family, he grants us access to his own life and mind with his signature warmth, humor and insight. Moving, inspiring, and sometimes laugh-out-loud funny, his memoir will bring enormous pleasure and relief to anyone with a "crazy" family--that is to say, to absolutely everyone." - Judith Warner, author of PERFECT MADNESS

"It's one thing to turn the hardships you face into fuel for doing good for others. But it's quite another, even braver thing to reveal details about those hardships publicly. Ned Hallowell has written a brave and illuminating book about overcoming odds." - Ann Curry

"A very readable, highly informative and helpful book." - The New York Times Book Review on DRIVEN TO DISTRACTION

"The first comprehensive book on the subject for the lay reader." - The Boston Globe on DRIVEN TO DISTRACTION

"Clear-sighted wisdom . . . Those in search of practical, concrete advice for creating and saving marriages will find what they need." - Publishers Weekly on MARRIED TO DISTRACTION
Bloomsbury Publishing, 9781632868589, 416pp.
Publication Date: June 12, 2018
About the Author
Edward M. Hallowell, M.D., is the bestselling author of Driven to Distraction and many other acclaimed books, a leading authority in the field of ADHD, a world-renowned speaker, the host of the podcast Distraction, and the founder of the Hallowell Centers for Cognitive and Emotional Health in Boston MetroWest, New York City, San Francisco, and Seattle. He lives in Arlington, Massachusetts. www.drhallowell.com
or
Not Currently Available for Direct Purchase