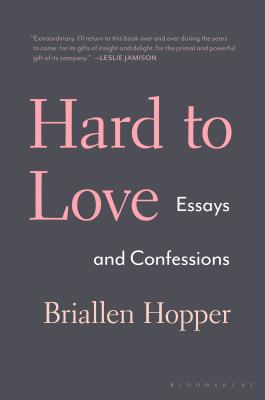 Hard to Love
Essays and Confessions
Hardcover

* Individual store prices may vary.
Other Editions of This Title:
MP3 CD (9/3/2019)
Description
A sharp and entertaining essay collection about the importance of multiple forms of love and friendship in a world designed for couples, from a laser-precise new voice.

Sometimes it seems like there are two American creeds, self-reliance and marriage, and neither of them is mine. I experience myself as someone formed and sustained by others' love and patience, by student loans and stipends, by the kindness of strangers.

Briallen Hopper's Hard to Love honors the categories of loves and relationships beyond marriage, the ones that are often treated as invisible or seen as secondary--friendships, kinship with adult siblings, care teams that form in times of illness, or various alternative family formations. She also values difficult and amorphous loves like loving a challenging job or inanimate objects that can't love you back. She draws from personal experience, sharing stories about her loving but combative family, the fiercely independent Emerson scholar who pushed her away, and the friends who have become her invented or found family; pop culture touchstones like the Women's March, John Green's The Fault in Our Stars, and the timeless series Cheers; and the work of writers like Joan Didion, Gwendolyn Brooks, Flannery O'Connor, and Herman Melville (Moby-Dick like you've never seen it!).

Hard to Love pays homage and attention to unlikely friends and lovers both real and fictional. It is a series of love letters to the meaningful, if underappreciated, forms of intimacy and community that are tricky, tangled, and tough, but ultimately sustaining.
Praise For Hard to Love: Essays and Confessions…
"Extraordinary. I'll return to this book over and over during the years to come: for its gifts of insight and delight, for the primal and powerful gift of its company." —Leslie Jamison, author of THE EMPATHY EXAMS and THE RECOVERING

"An exceptional work: an expert tangle of memoir, literary criticism, pop cultural analysis and political meditation that is warm, buoyant, connective, and smart as hell." —Rebecca Traister, author of ALL THE SINGLE LADIES and GOOD AND MAD

"In her rousing essay collection Hard To Love, Hopper takes us into her unusually expansive love life, complete with knotty familial relationships, deep friendships, and emotional investment in the fictional and material worlds . . . Daring . . . brilliant . . . ingenious." - NPR.org

"An incredibly thoughtful examination of the various ways we depend upon others, through an expansive and engaging look at love outside a traditional romantic sphere . . . Hopper's ability to reimagine and celebrate the ties that bind us are something to celebrate." - The New York Observer

"In a society that often values romantic love above all else, nothing is as invigorating as a strong feminist accounting of the different roles women assume throughout life. Hopper discusses an Emersonian boyfriend; spinsters past and present; being and not being a mother; and the power of friendship." —Ms. Magazine

"Stunning . . . Prepare to underline vigorously, nod along, and ultimately call your friend to say, 'Thanks.'" —Refinery 29

"The perfect book to give to a friend and read together." —Nylon

"I found myself deeply comforted by Hard to Love. Hopper lets us know: We are not alone in the universe after all." —Jami Attenberg, author of ALL GROWN UP

"Hopper's essays seem like love songs . . . delicate, thoughtful elegies to friendship, compassion, and grace. A fresh, well-crafted collection." —Kirkus Reviews (starred review)

"I adored Hard To Love and its miraculous intermingling of revelatory criticism and soulful memoir. In its excesses of tenderness, intelligence, and pleasure, this book brilliantly puts the lie to the idea that a single life is less full--or less complicated--than a coupled one." —Alice Bolin, author of DEAD GIRLS

"The best essay collection I've read in ages. Hopper's rare gifts of intellectual rigor, spiritual depth, and genuine curiosity make her a must-read voice on everything she turns her brilliant mind to. She's earned a place as the poet laureate of single womanhood." —Ada Calhoun, author of WEDDING TOASTS I'LL NEVER GIVE

"In deft strokes, Hopper reminds us that death-do-us-part romance is not the only way to love, or to live. A satisfying, eye-opening examination." —Esmé Weijun Wang, author of THE COLLECTED SCHIZOPHRENIAS

"Our culture often tells us we have two options: coupled and loved, or alone and unloved. Hopper posits a third option: uncoupled but very much loved and loving. These essays refute our binary assumptions by teasing out the satisfying complexities that lie between and beyond the old poles." —Anne Fadiman, author of THE WINE LOVER'S DAUGHTER and THE SPIRIT CATCHES YOU AND YOU FALL DOWN

"With intrepid imagination, Hopper conjures a world beyond our most imperious cultural assumptions. Read this book." —Gregory Pardlo, author of AIR TRAFFIC

"A compelling, smart collection of essays on relationships of many kinds--hoarding, dependence, female friendship, marriage or lack thereof--from a widely published literary scholar." —LitHub

"A smart group of essays on contemporary relationships. A literature scholar, Hopper cultivates a voice that is sophisticated and analytical, but also earnest and eager, and her strongest essays balance these qualities." —Publishers Weekly

"Smart and studied reflections on the power of friendship . . . While families are bound by blood and couples often by the law of marriage, the bonds of friendship expand and contract over time. Hopper fervently embraces this and the rich intimacies it affords." —Booklist

"A refreshing collection that probes the expanse of the human heart." —BookPage
Bloomsbury Publishing, 9781632868800, 336pp.
Publication Date: February 5, 2019
About the Author
Briallen Hopper writes about pop culture, religion, politics, friends, family, and herself for New York Magazine, Los Angeles Review of Books, the New Republic, the New Inquiry, Avidly, the Chronicle of Higher Education, and Killing the Buddha, among many others. Her essays have been cited or recommended by sources like the New York Times, the Rumpus, Flavorwire, Longreads.com, and Slate. She has a PhD in American literature from Princeton and teaches writing at Yale.

www.briallenhopper.com
@briallenhopper
briallenhopper.tumblr.com
or
Not Currently Available for Direct Purchase