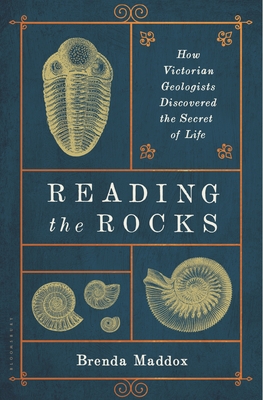 Reading the Rocks (Hardcover)
How Victorian Geologists Discovered the Secret of Life
Bloomsbury USA, 9781632869128, 272pp.
Publication Date: November 21, 2017
* Individual store prices may vary.
Description
A rich and exuberant group biography of the early geologists, the people who were first to excavate from the layers of the world its buried history.
The birth of geology was fostered initially by gentlemen whose wealth supported their interests, but in the nineteenth century, it was advanced by clergymen, academics, and women whose findings expanded the field. Reading the Rocks brings to life this eclectic cast of characters who brought passion, eccentricity, and towering intellect to the discovery of how Earth was formed.
Geology opened a window on the planet's ancient past. Contrary to the Book of Genesis, the rocks and fossils dug up showed that Earth was immeasurably old. Moreover, fossil evidence revealed progressive changes in life forms. It is no coincidence that Charles Darwin was a keen geologist.
Acclaimed biographer and science writer Brenda Maddox's story goes beyond William Smith, the father of English geology; Charles Lyell, the father of modern geology; and James Hutton, whose analysis of rock layers unveiled what is now called "deep time." She also explores the livesof fossil hunter Mary Anning, the Reverend William Buckland, Darwin, and many others--their triumphs and disappointments, and the theological, philosophical, and scientific debates their findings provoked. Reading the Rocks illustrates in absorbing and revelatory details how this group of early geologists changed irrevocably our understanding of the world.
About the Author
Brenda Maddox is an award-winning author and journalist. Her writing has appeared in The New York Times, The Washington Post, The Observer, The Times, and New Statesman. Her book Rosalind Franklin: The Dark Lady of DNA won the Los Angeles Times Science Book Award for 2002 and her book D. H. Lawrence: The Married Man won the Whitbread Biography Prize. Her book Nora was made into a film starring Ewan McGregor. She lives in London and Wales.
Praise For Reading the Rocks: How Victorian Geologists Discovered the Secret of Life…
"Award-winning biographer Maddox nicely blends literary and scientific biography in this study of 19th-century British geology and its practitioners, some of them poets as well as naturalists." - Kirkus Review
"[I]n this engaging group biography … Maddox distills the scientific exploration of [geology] into the stories of the vibrant pioneers who pushed to increase our understanding of the world's long history and humanity's place in it." - Booklist
"[T]his is an accessible, enjoyable, and authoritative read. Anyone curious about evolution, geology, or paleontology's roots won't want to miss this work." - Library Journal
"Brenda Maddox's new book is about this magic moment in the history of modern geology … the overall result is a fascinating picture of scientific life, and of fundamental changes in thinking, over a vital half-century." - Daily Telegraph
"Maddox's book is a fascinating group biography of the pioneers of geology who eventually inspired Charles Darwin to develop his theory of evolution … Maddox brings to life the personalities of the time and conjures superbly the excitement and controversy that the new science caused." - Ian Critchley, Sunday Times