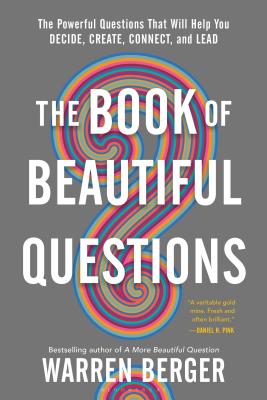 The Book of Beautiful Questions
The Powerful Questions That Will Help You Decide, Create, Connect, and Lead
Paperback

* Individual store prices may vary.
Other Editions of This Title:
Hardcover (10/30/2018)
MP3 CD (9/3/2019)
Paperback, Chinese (3/5/2020)
Description
From the bestselling author of A More Beautiful Question, hundreds of questions that harness the magic of inquiry to tackle challenges we all face-at work, in our relationships, and beyond.

When we're confronted with almost any demanding situation, the act of questioning can help guide us to smart decisions in the face of uncertainty. But the questions must be the right ones; the ones that cut to the heart of complexity or enable us to see an old problem in a fresh way.

In The Book of Beautiful Questions, expert "questionologist" Warren Berger shares illuminating stories and compelling research on the power of inquiry. Drawing from the insights and expertise of psychologists, innovators, effective leaders, and some of the world's foremost creative thinkers, he presents the essential questions readers need to make the best choices when it truly counts, with a particular focus in four key areas: decision-making, creativity, leadership, and relationships.

The powerful questions in this book can help you:

- Identify opportunities in your career or industry
- Generate fresh ideas in business or in your own creative pursuits
- Check your biases so you can make better judgments and decisions
- Do a better job of communicating and connecting with the people around you

Thoughtful, provocative, and actionable, these beautiful questions can be applied immediately to bring about change in your work or your everyday life.
Praise For The Book of Beautiful Questions: The Powerful Questions That Will Help You Decide, Create, Connect, and Lead…
"Berger champions the humble question as among the most effective tools in business. In The Book of Beautiful Questions, he curates a selection of the best, culled from a variety of leaders, academics, entrepreneurs, and others." —Inc.com

"In [A More Beautiful Question], the author explored how the right kinds of questions can spark creativity and innovation. In this follow-up, he delves further into 'beautiful questions,' which are powerful tools that can transform people's thinking . . . VERDICT: This practical work is designed to prompt action and get results" —Library Journal

"Guides professionals to think deeply about how they can use questions to improve decision making and to inspire creativity, connect with others, and cultivate leadership skills . . . Introspective readers, or readers who feel like they can't get off the hamster wheel, will find this helpful." —Publishers Weekly

"Berger makes a good case for building questioning into work culture and work flow." —Kirkus Reviews

"I have found several great books on questioning, and bestselling author Warren Berger's latest book, The Book of Beautiful Questions, is no exception . . . [I] recommend it to any small business owner wanting to expand their ability to inquire." —Small Business Matter

"The Book of Beautiful Questions is a veritable gold mine. In its pages, you will find fresh (and often brilliant) ways to use the power of the interrogative to sharpen your decision-making, boost your creativity, and deepen your connections to others." —Daniel H. Pink, bestselling author of WHEN, DRIVE, and A WHOLE NEW MIND

"If we want better answers, we need to ask better questions. Warren Berger shows us the incredible power that inquiry has to approach problems differently and to unearth powerful, innovative solutions. In an increasingly complicated world, knowing how to ask provocative questions is a must-have skill for success." —Lisa Bodell, bestselling author of WHY SIMPLE WINS and CEO of FutureThink

"Warren Berger raises questioning to an art form. The Book of Beautiful Questions is a vital read for anyone who wants to excel at creativity, leadership, decision-making, and interpersonal skills. Berger offers a symphony of questions that will inspire you to become your own maestro of inquiry." —Frank Sesno, former CNN anchor and author of ASK MORE

"Why don't we ask enough questions? Why do we ask so many bad questions? And how can we ask the kinds of great questions that make us better at leading, deciding, connecting, and creating? This isn't just a thought-provoking book on questions--it's also full of instantly useful answers." —Adam Grant, bestselling author of ORIGINALS, GIVE AND TAKE, and OPTION B with Sheryl Sandberg

"Use Warren Berger and his new book as a guide for asking not only more beautiful questions but also more important ones. It may well make the difference between a busy life and a life that really matters." —Greg McKeown, bestselling author of ESSENTIALISM: THE DISCIPLINED PURSUIT OF LESS

"The Book of Beautiful Questions gives us the power to re-imagine our lives. For those who seek to make better decisions and lead more effectively, it's a transformational resource you'll go back to again and again." —Dorie Clark, author of ENTREPRENEURIAL YOU and STAND OUT

"Being an effective leader is not so much about having all the answers as asking the right questions. In The Book of Beautiful Questions, Warren Berger shows why questioning is critical to success--and provides hundreds of questions that can help you be a better thinker, partner, problem-solver, and leader." —Marshall Goldsmith, bestselling author of TRIGGER and WHAT GOT YOU HERE WON'T GET YOU THERE
Bloomsbury Publishing, 9781632869579, 288pp.
Publication Date: September 3, 2019
About the Author
Warren Berger has studied hundreds of the world's foremost innovators, entrepreneurs, and creative thinkers to learn how they ask questions, generate original ideas, and solve problems. He is the author of several books, including the bestseller A More Beautiful Question. His writing appears regularly in Fast Company, Harvard Business Review, the New York Times, Psychology Today, and other publications. He lives in New York.