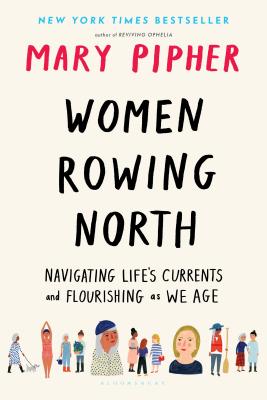 Women Rowing North
Navigating Life's Currents and Flourishing As We Age
Hardcover

* Individual store prices may vary.
Other Editions of This Title:
Paperback (3/3/2020)
Paperback, Large Print (4/1/2020)
Library Binding, Large Print (3/13/2019)
Paperback, Korean (8/23/2019)
Description
New York Times Bestseller * USA Today Bestseller * Los Angeles Times Bestseller * Publishers Weekly Bestseller

The instant New York Times bestseller from the author of Reviving Ophelia--a guide to wisdom, authenticity, and bliss for women as they age.

Women growing older contend with ageism, misogyny, and loss. Yet as Mary Pipher shows, most older women are deeply happy and filled with gratitude for the gifts of life. Their struggles help them grow into the authentic, empathetic, and wise people they have always wanted to be.

In Women Rowing North, Pipher offers a timely examination of the cultural and developmental issues women face as they age. Drawing on her own experience as daughter, sister, mother, grandmother, caregiver, clinical psychologist, and cultural anthropologist, she explores ways women can cultivate resilient responses to the challenges they face. "If we can keep our wits about us, think clearly, and manage our emotions skillfully," Pipher writes, "we will experience a joyous time of our lives. If we have planned carefully and packed properly, if we have good maps and guides, the journey can be transcendent."
Praise For Women Rowing North: Navigating Life's Currents and Flourishing As We Age…
"An enlightening look at how women can age joyfully." - People

"Both practical and inspiring." - New York Times "Inside the List"

"[Pipher's] 'quest for joy and happiness' is sincere, as is her commitment to helping other women achieve theirs. Some readers will treasure the book. All readers will admire her unadorned but wise summation that answered prayers are 'a surcease of worry.' " - Washington Post

"Full of first-hand anecdotes, the hopeful book doesn't shield the reader from the realities of aging, but rather delivers thoughtful insight and guidance to help women get more out of their lives and to be happier. This mental makeover is a necessity when you consider our senior population, especially women, is growing faster than you can say 70 is new 60." - Postmedia

"Pipher offers warm, empathetic guidelines for navigating aging and for recognizing its unexpected gifts." - BookPage

"A wisdom-filled guide . . . Pipher's mindful tips act as a map to joy and remind us that we can flourish through all of our years" - Woman's World

"This is bound to become the bible of baby boomer women." - Editors' Picks, Library Journal

"Women of all ages will find much to reflect on, and respond to, in this collection of lives lived and lost." - NPR, Best Books of the Year

"Think of Women Rowing North as a GPS for navigating your later years. And while Pipher, 71, says she wrote it specifically for women crossing from middle age to old age, there is much in the book that is useful for any of us." - Considerable

"A work chock-full of wisdom and consoling messages . . . While a must-read for its target audience of women moving into old age, Pipher's engaging book is an ought-to-read for their daughters and sons as well, as it sets forth the universal message that 'happiness is a choice and a set of skills.' " - Starred Review, Publishers Weekly

"Uplifting and calming . . . Pipher's skill of listening to clients and parsing meaning is evident in this volume filled with stories of women in the throes of change." - Starred Review, Library Journal

"An encouraging, comforting and very welcome message about the strength and joy that can come with age." - AARP, The Season's Big Books

"Explores the stereotypes and challenges of getting older and the survival skills women need to be happy." - Wall Street Journal

"This positive, affirming book will inspire and guide women facing these challenges." - Booklist

"Thoughtful, wise, and profoundly transformative, Women Rowing North tells the stories that make us feel accompanied and hopeful as well as providing models and muses for all the challenges and joys of this later stage of life. Pipher inspires us to take on this most important role, one that is most needed in these challenging times of division and rancor: that of wise elders joining together and welcoming all into the beloved community she has labored to create. This is truly a one-of-a-kind book, one that I've been waiting for." - Julia Alvarez, author of HOW THE GARCIA GIRLS LOST THEIR ACCENTS and ONCE UPON A QUINCEANERA: COMING OF AGE IN THE USA

"In Women Rowing North Mary Pipher offers an illuminating, much-needed template for moving through advancing years with gratitude and grace--not through denial or rejection of what's broken and lost but by opening our hearts fully to everything our life delivers. This is a book to treasure, to keep by the bedside to remind us that, contrary to shopworn stereotypes, joy and wonder don't have a time-stamp." - Barbara Graham, NEW YORK TIMES bestselling author of EYE OF MY HEART

"If I needed one book to guide me through the perils to the delights of aging, it is Mary Pipher's Women Rowing North. It sets the direction, shows the dangers, and brings the reader safely through to joy. I feel gratitude, not only for life, but for this wonderful book." - Jane Isay, author of UNCONDITIONAL LOVE: A GUIDE TO NAVIGATING THE JOYS AND CHALLENGES OF BEING A GRANDPARENT TODAY

"Simultaneously honest and calming, Women Rowing North is like an extended therapy session for millions of women who are strong and resourceful, but need to be reminded of that. This book examines head-on the losses and crises we all fear, cohering into a profound and comforting guide to living deftly and deeply well into old age." - Meg Cox, author of THE BOOK OF NEW FAMILY TRADITIONS

"I love this book. Don't stop with a once-through reading. I myself keep it at hand to dip into for a quick shot of Mary Pipher's matter-of-fact wisdom, humor, and instinct for the essential. It never fails." - Joanna Macy, author of COMING BACK TO LIFE: UPDATED GUIDE TO THE WORK THAT RECONNECTS

"Eye-opening . . . heart-wrenching and uplifting." - San Francisco Chronicle on THE SHELTER OF EACH OTHER

"An important book . . . Pipher shines high-beam headlights on the world of teenage girls." - Los Angeles Times on REVIVING OPHELIA

"A generous book conceived and executed by a compassionate . . . mind." - Starred review, Publisher's Weekly on SEEKING PEACE

"Serious and thoughtful material presented with the fluidity of good fiction." - Kirkus Reviews on REVIVING OPHELIA

"A must-read for all of us who care about young women in our lives . . . Reviving Ophelia arms us with information we can use in helping our daughters grow to adulthood with their strength intact." - Lincoln Star Journal on REVIVING OPHELIA

"A canny mix of optimism and practicality." - Newsweek on THE SHELTER OF EACH OTHER

"An absorbing chronicle of discovery." - Booklist on SEEKING PEACE

"A field guide to old age, combining personal stories with social theory." - The Boston Globe on ANOTHER COUNTRY
Bloomsbury Publishing, 9781632869609, 272pp.
Publication Date: January 15, 2019
About the Author
Mary Pipher is a psychologist specializing in women, trauma, and the effects of our culture on mental health, which has earned her the title of "cultural therapist" for her generation. She is the author of four New York Times bestsellers, including Reviving Ophelia, The Shelter of Each Other, Another Country and most recently, Women Rowing North. She lives in Lincoln, Nebraska.