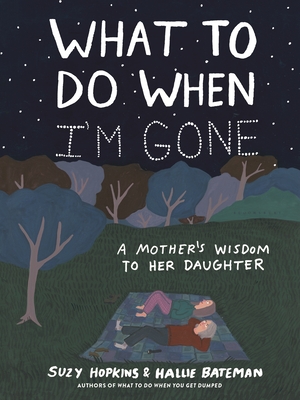 What to Do When I'm Gone
A Mother's Wisdom to Her Daughter
Hardcover

* Individual store prices may vary.
Description
A mother's advice to her daughter--a guide to daily living, both practical and sublime--with full-color illustrations throughout.

One sleepless night while she was in her early twenties, illustrator/writer Hallie Bateman had a painful realization: her mom would die, and after she died she would be gone. The prospect was devastating, and also scary--how would she navigate the world without the person who gave her life? She thought about all the motherly advice she would miss--advice that could help her through the challenges to come, including the ordeal of losing a parent.

The next day, Hallie asked her mother, writer Suzy Hopkins, to record step-by-step instructions for her to follow in the event of her mom's death. The list began: "Pour yourself a stiff glass of whiskey and make some fajitas" and continued from there, walking Hallie through the days, months, and years of life after loss, with motherly guidance and support, addressing issues great and small--from choosing a life partner to baking a quiche. The project became a way for mother and daughter to connect with humor, openness, and gratitude. It led to this book.

Combining Suzy's wit and heartfelt advice with Hallie's quirky and colorful style, What to Do When I'm Gone is the illustrated instruction manual for getting through life without one's mom. It's also a poignant look at loss, love, and taking things one moment at a time. By turns whimsical, funny, touching, and above all pragmatic, it will leave readers laughing and teary-eyed. And it will spur conversations that enrich family members' understanding of one another.
Praise For What to Do When I'm Gone: A Mother's Wisdom to Her Daughter…
"Hallie Bateman and her mother have created a funny, beautiful guidebook . . . that's simultaneously deeply personal and super universal in that it chisels to the core of how complicated and wonderful mother-daughter relationships are." - Los Angeles Magazine

"The very concept of this book--Hopkins' day-by-day breakdown of what Bateman should do when she's gone--immediately made me emotional, but the book itself is surprisingly hopeful, and a reminder that there's life again even after unimaginable loss." - Shondaland "New Books You'll Want to Read This April"

"A true collaboration . . . Readers may expect that this mother-daughter exercise is heartfelt but will probably be surprised by how thorough it is in its thoughtful treatment of how to handle one's own life and death in addition to the loss of a loved one." - Booklist

"The advice is always warm and often wise, accompanied by illustrations that often reflect a playfulness reminiscent of Roz Chast. This isn't a morbid book, nor a particularly dark one, but a book about facing the inevitable with grace and good humor." - Kirkus

"Full of the kind of counsel that will have readers longing to call their own mother, the book additionally features recipes that, while lacking in precision, exemplify Hopkins's charming, loving voice." - Library Journal

"An exceptional self-help guide . . . Their graphic memoir is filled with plenty of heartfelt wisdom and edgy humor reminiscent of Roz Chast's Can't We Talk About Something More Pleasant? . . . What can you do to help someone who's recently lost a mom? Give them a copy of What to Do When I'm Gone." - BookPage

"A heartfelt illustrated manual to navigating the grieving process. Written from the perspective of the deceased, and told through punchy language and moving illustrations, What to Do When I'm Gone feels less like a self-help book and more like your deceased loved one taking your hand as you move from one stage of grief to the next. The result is a thoughtful, engaging work that serves as a guidebook, a comfort, and a reminder of a mother's love. It's funny, too." - The Gazette

"A gorgeous, practical, loving and lovely book." - Caroline Leavitt

"Taking something as monumental as grief and loss and making it handleable, even for a small bit of time, is no small achievement. And this book achieves just that with humor and honesty and recipes. All critical for persevering." - Maira Kalman

"Brimming with beautiful illustrations and hilarious, touching prose, this book is perfect for every mother and daughter and anyone who will someday lose someone they love, which is to say, everyone. I laughed and cried then immediately called my own mother and asked her to tell me everything now, before it's too late." - Wendy MacNaughton

"Beautiful, heart-wrenching, funny. I'll keep this book close till the day I need it--and pass it to my son for the day he will." - Ally Sheedy
Bloomsbury Publishing, 9781632869685, 144pp.
Publication Date: April 3, 2018
About the Author
Hallie Bateman is a Los Angeles-based illustrator and writer whose work has appeared in the New Yorker, the New York Times Magazine, Lenny, BuzzFeed, the Awl, and elsewhere. Her creative journal, Brave New Work, was published by MOMA in 2017.

Suzy Hopkins is a former newspaper reporter who since 2008 has published a quarterly magazine (Friends & Neighbors, www.seniorfan.com) for boomers and seniors in California's Central Sierra. She is also Hallie's mom. She lives in Columbia, California.
1. In the introduction, Hallie Bateman writes about the night she truly internalized the fact that her mother was going to die someday. In the morning, she called her mom and asked her to write this book. Have you had a moment like this? What did you do, or wish you'd done?
2. Day 1 in Suzy's guide includes a recipe for fajitas (8-9). Throughout the book, she continues to provide a variety of recipes. For you, how are cooking and comfort connected?
3. On Day 4 (14), Suzy gives a guideline for her obituary, along with some points not to include. If you could write your own obituary, or guide someone else on what to say, what would you want to be remembered for?
4. Suzy recommends making a "duck-it" list instead of a bucket list, with things you want to avoid your whole life, rather than things you want to accomplish. What do you think of this advice? What would be on your "duck-it" list?
5. What to Do When I'm Gone was a true collaboration project between Hallie and Suzy. Are there any professional or personal projects you have or want to work on with your parents? What are your respective skills? How could they complement each other?
6. Hallie and Suzy chose to present this book as an illustrated guide. What did the art add to the text? If you were to do a project like this, what medium would you choose?
7. Many of the points in this book are practical: go hiking, bake brownies, watch a movie. Why do you think that is? How is this type of instruction helpful?
8. If you've lost someone important, is there any advice you wish they could have left you? (If they did leave you any advice—what was it?)
9. Hallie and Suzy take a practical approach to a potentially morbid or depressing subject. Do you think this book finds the right balance between solemnity and humor? How does this compare with society's understanding of death?
10. If you had the chance to write a guide for your children (or other loved ones) for after your death, what would be the most important point of advice? Do you think they would follow it?