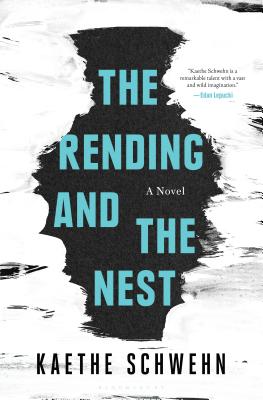 The Rending and the Nest
Hardcover

* Individual store prices may vary.
Description
A chilling yet redemptive post-apocalyptic debut that examines community, motherhood, faith, and the importance of telling one's own story.
When 95 percent of the earth's population disappears for no apparent reason, Mira does what she can to create some semblance of a life: She cobbles together a haphazard community named Zion, scavenges the Piles for supplies they might need, and avoids loving anyone she can't afford to lose. She has everything under control. Almost.
Four years after the Rending, Mira's best friend, Lana, announces her pregnancy, the first since everything changed and a new source of hope for Mira. But when Lana gives birth to an inanimate object--and other women of Zion follow suit--the thin veil of normalcy Mira has thrown over her new life begins to fray. As the Zionites wrestle with the presence of these Babies, a confident outsider named Michael appears, proselytizing about the world beyond Zion. He lures Lana away and when she doesn't return, Mira must decide how much she's willing to let go in order to save her friend, her home, and her own fraught pregnancy.
Like California by Edan Lepucki and Station Eleven by Emily St. John Mandel, The Rending and the Nest uses a fantastical, post-apocalyptic landscape to ask decidedly human questions: How well do we know the people we love? What sustains us in the midst of suffering? How do we forgive the brokenness we find within others--and within ourselves?
Praise For The Rending and the Nest…
"Schwehn has created a postapocalyptic world in which why is not the main question. The Rending happened; accepting that is the first step toward recovery for the novel's multidimensional characters. This beautifully written story begs to be read again." - starred review, Library Journal
"[An] unsettling, postapocalyptic page-turner . . . Schwehn has created an intriguing and bizarre world where there are no easy answers . . . Readers will race to find out just what is happening and what it all means . . . The entertainment value is high, and those looking for a new dystopian world will be pleased." - Booklist
"This absorbing debut novel . . . offers a world that is intensely familiar yet strange . . . Schwehn's narrator establishes her place among post-apocalyptic heroines through her willingness to remake the world from what she has left and her unlikely arrival at hope." - Kirkus Reviews
"Schwehn's bizarre novel blends seamless storytelling with the raw emotion of a world suddenly turned on its head . . . The story culminates in a riveting rescue mission. Schwehn's novel is nerve-wracking in the most satisfying way, and the characters are vivid enough to elevate this story above the well-traveled terrain of postapocalyptic fiction." - Publishers Weekly
"Why You'll Love It: Kaethe Schwehn's post-apocalyptic novel delivers thrills and drama, tackling the question of what it means to love others in a broken world." - Paste Magazine, "25 Most Anticipated Books of 2018"
"Gripping . . . Mira is a complex, well-drawn character, by turns vulnerable and adolescent, then tough and resourceful, as everything she has ever known is ripped away and certainty is replaced by doubt." - The Guardian
"Kaethe Schwehn vividly portrays a hostile world in which survival depends on stories shared, accepted and believed... a post-apocalyptic tale of personal acceptance and reinvention that is as compelling as it is unnerving." - Minneapolis Star Tribune
"However nasty the world is after the Rending, Schwehn's depiction of it is entertaining, thoughtful, and even playful. She doesn't avoid the horror of a desperate situation, but horror isn't the main point. This is a rich, smart novel that imagines an incredible alternative world." - Christian Century
"[Schwehn] crafts her altered world with care and her characters with empathy... The ending of the novel is deeply satisfying, not because the book's mysteries are explained away, but because Mira has fully embraced her own story-- and found someone to whom to tell it. This beautiful, sad, hopeful novel is highly recommended." - The Gazette (Cedar Rapids, Iowa)
"The book's existential ponderings are balanced by a suspenseful plot, full-bodied characters, and juicy, sensuous writing. Schwehn is sometimes witty... or ferocious... Often her language is flat-out gorgeous... Maybe the world of The Rending and the Nest isn't exactly The Emerald City, but it isn't Kansas--or Minnesota -- as we know it, either. It's well worth the trip." - Bookreporter.com
"This post-apocalyptic page-turner expertly weaves the threads of humankind's new story . . . The Rending and the Nest left me with indelible images of the oddities contained within its pages, and I am moved by the prose which so eloquently describes a world that contains both bizarre atrocities and an innate hope for the future." - Washington Independent Review of Books
"Rarely does that collision of genre concepts, storytelling talent and big ideas result in anything as memorable, as powerful and as compelling as Kaethe Schwehn's The Rending and the Nest. It's a sharp, fearless narrative -- one rendered all the more impressive by the fact that it's the author's debut novel... Schwehn has done something remarkable here, creating a rich and nuanced world that exists on a very small scale... Into this sad vestigial society, Schwehn pours love and anger and jealousy, betrayal and despair and hope; it's a jumbled, complicated mess that reads as pure and true as anything you'll find in a story set after the end of the world." - The Maine Edge
"[A] bewitching, eye-opening [work] that center[s] on feminism and community." - The Daily Iowan
"A visceral, transcendent tale about creating life out of no life in a post-apocalyptic world . . . At its core, the novel asks what it means to be human . . . Schwehn's poetic prose guides us through a story that is both terrible and wonderful, sad and content, desolate and beautiful, a story that explores the depths of human tenderness in the face of tragedy and loss." - The Literary Review
"Schwehn builds her story slowly at first, giving readers time to adjust to a world that is eerily recognizable and yet entirely foreign. As the novel develops, this slow pace gives way to a furious speed that is reflective of the ever-shifting understanding Mira and her friends have of their new world... [Explores] important questions about what it means to really live: Is surviving enough? If not, what makes a life worth living? And what stories do we tell ourselves--and one another--to make it so?" - Shelf Awareness
"Part post-apocalyptic novel and part coming-of-age tale, The Rending and the Nest tells the story of ordinary people struggling to understand extraordinary change. It's poignant and mournful, sexy and wry. Kaethe Schwehn is a remarkable talent with a vast and wild imagination." - Edan Lepucki, New York Times bestselling author of CALIFORNIA and WOMAN NO. 17
"It is impossible to read Kaethe Schwehn's extraordinary, uncanny novel without placing yourself in the center of its circumstances. Because sometimes the world really does wobble on its axis and in an instant all that we know or have is gone. The only honest comfort we can claim as our own is the stories we call forth from the ruins." - Jill Alexander Essbaum, New York Times bestselling author of HAUSFRAU
"An accomplished and mesmerizing debut packed with humor and horror and grace. Kaethe Schwehn offers up a magical, unsettling vision of the future, and in doing so joins the company of such literary dazzlers as George Saunders and Margaret Atwood." - Benjamin Percy, author of RED MOON and THE DARK NET
"One of the most exciting debut novels I've ever read. It beautifully illustrates the fragility of parenthood, womanhood, and our very humanity. Surreal and precise, sharp and moving, this novel joins the ranks of other genius post-apocalyptic works like Oryx and Crake and Station Eleven. Read it and marvel." - Sharma Shields, author of THE SASQUATCH HUNTER'S ALMANAC
"A rich and passionate novel of page-turning intensity, an unflinching gaze into our deepest flaws, offering a way forward in the simplest of terms: love, community, humility and trust." - Michelle Hoover, author of THE QUICKENING and BOTTOMLAND
"A necessary and luminous story about coming to terms with a ruined world. An unforgettable novel, dazzling despite its darkness. Schwehn is a brave and brilliant writer." - René Steinke, author of FRIENDSWOOD and HOLY SKIRTS
"Schwehn's Tailings, is, like all of my favorite contemporary nonfiction, uncategorizable--part memoir, part spiritual reflection, part reportage. Brilliant in all of its guises, Tailings only makes me want to read more by Kaethe Schwehn. She writes with fierce intelligence and luminous clarity on all of her subjects: loss, grace, this very particular village, and the hard work of renewal. Tailings is a beautiful and original book by a remarkable writer." - Rene Steinke, author of FRIENDSWOOD, on TAILINGS
Bloomsbury USA, 9781632869722, 304pp.
Publication Date: February 20, 2018
About the Author
Kaethe Schwehn's first book, Tailings: A Memoir, won the 2015 Minnesota Book Award for Creative Nonfiction, and her chapbook of poems, Tanka & Me, was selected for the Mineral Point Chapbook Series. In addition to holding M.F.A.s from the Iowa Writers' Workshop and the University of Montana, Kaethe has been the recipient of an Academy of American Poets prize, a Minnesota Arts Board grant, and a Loft Mentor Series award. She teaches at St. Olaf College and lives in Northfield, Minnesota.
or
Not Currently Available for Direct Purchase