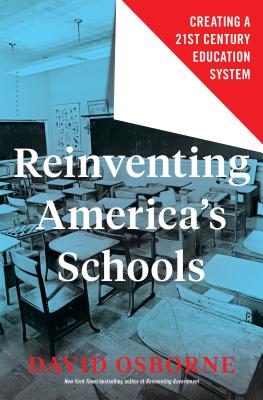 Reinventing America's Schools
Creating a 21st Century Education System
Hardcover

* Individual store prices may vary.
Other Editions of This Title:
Digital Audiobook (9/4/2017)
MP3 CD (9/5/2017)
Compact Disc (9/5/2017)
Description
From David Osborne, the author of Reinventing Government--a biting analysis of the failure of America's public schools and a comprehensive plan for revitalizing American education.

In Reinventing America's Schools, David Osborne, one of the world's foremost experts on public sector reform, offers a comprehensive analysis of the charter school movements and presents a theory that will do for American schools what his New York Times bestseller Reinventing Government did for public governance in 1992. In 2005, when Hurricane Katrina devastated New Orleans, the city got an unexpected opportunity to recreate their school system from scratch. The state's Recovery School District (RSD), created to turn around failing schools, gradually transformed all of its New Orleans schools into charter schools, and the results are shaking the very foundations of American education. Test scores, school performance scores, graduation and dropout rates, ACT scores, college-going rates, and independent studies all tell the same story: the city's RSD schools have tripled their effectiveness in eight years. Now other cities are following suit, with state governments reinventing failing schools in Newark, Camden, Memphis, Denver, Indianapolis, Cleveland, and Oakland.


In this book, Osborne uses compelling stories from cities like New Orleans and lays out the history and possible future of public education. Ultimately, he uses his extensive research to argue that in today's world, we should treat every public school like a charter school and grant them autonomy, accountability, diversity of school designs, and parental choice.
Praise For Reinventing America's Schools: Creating a 21st Century Education System…
"[Osborne] has amassed a great deal of data about charter schools . . . [He] aims to influence state and city administrators, school boards, and federal policymakers, with a nod to ways that parents can make their concerns heard. He offers myriad school models, such as 'no-excuses' schools, with longer school days and years; schools that focus on science and technology; athletics-intensive schools; single-sex schools; schools offering intense therapeutic help; and schools that seek to preserve a particular ethnic heritage." - Kirkus Reviews

"David Osborne, master of "reinventing government," has trained his penetrating eye on America's schools and shown that they are failing because the system is wrongly designed. He proposes a decentralized system of public charter schools subject to real accountability for student outcomes. Bound to infuriate the powerful forces now undergirding the status quo, this book illuminates an essential path forward if we are to create an opportunity society, especially for those not born to privilege." - Joel Klein, former chancellor, New York City public school

"In today's education debates, results for children are too often an afterthought. David Osborne wants to change that and in this important book, he shows us how." - Arne Duncan, Former U.S. Secretary of Education and CEO of the Chicago Public Schools, currently a Managing Partner at the Emerson Collective

"David Osborne captures the challenges of creating great public schools and the extraordinary promise of this new model. America must have the best schools in the world in order to lead the world. David provides the roadmap." - Mary Landrieu, former Democratic senator from Louisiana

"David Osborne raises a provocative and thoughtful question: should we give schools greater autonomy in exchange for greater accountability? It's certainly worked well in some of our best schools and it's a long overdue discussion among educators, parents and advocates for improving education." - John King, President and CEO of The Education Trust, former U.S. Secretary of Education, and former New York State Commissioner of Education

"Wow! Blunt, clear, compelling, even thrilling, a terrific roadmap for U.S. public education, 21st Century style, complete with potholes and how to avoid them. 'Every school a charter school.' (Someone might even run for office on that slogan.)" - Chester E. Finn, Jr. Senior Fellow, Hoover Institution, Stanford University, and Distinguished Senior Fellow & President Emeritus, Thomas B. Fordham Institute

"David Osborne has identified the most hopeful new development in American education reform: the growing number of urban school systems that have empowered parents with school choice while also empowering educators by holding them accountable not for following rules, but for delivering results. Reinventing America's Schools tells the story of these systems and, in doing so, provides a compelling blueprint for replicating their success." - Martin West, Harvard Graduate School of Education Professor, National Bureau of Economic Research Fellow, and executive editor of EDUCATION NEXT

"A landmark in the debate on the future of public policy." - The Washington Post on REINVENTING GOVERNMENT
Bloomsbury USA, 9781632869913, 432pp.
Publication Date: September 5, 2017
About the Author
David Osborne is the author or co-author of five nonfiction books: Laboratories of Democracy; Reinventing Government, a New York Times bestseller; Banishing Bureaucracy; The Reinventor's Fieldbook; and The Price of Government. He has written for the Atlantic, the New York Times Magazine, Harper's, and many other publications. Osborne is currently a senior fellow at the Progressive Policy Institute, directing the Reinventing America's Schools Project. He lives in Gloucester, Massachusetts.
or
Not Currently Available for Direct Purchase