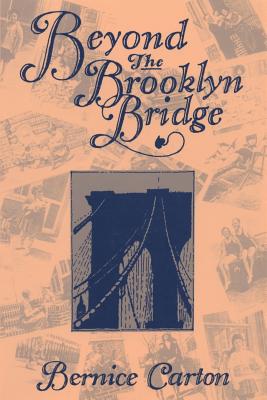 Beyond the Brooklyn Bridge
Paperback

* Individual store prices may vary.
Other Editions of This Title:
Hardcover (5/1/1998)
Description
Since the triumph of "Our Town," many American writers have sensed the tug of the past, the longing to share the sights, sounds and smells of gentler times with each new generation. Bernice Carton is part of that noble tradition as she depicts Brooklyn, New York in the glittering 1920s and the depressed 1930s-a time when America was innocent and hopeful. This evocative portrait will appeal to young people exploring their roots as well as to older people looking for the glow of cherished memories. Carton uses the eye of a journalist and the sensitivity of a novelist to explore a long-past world where nobody ever left Brooklyn because it was the center of the universe. * * * * * Bernice Carton has sailed the seven seas but has never lost her love for home. Her travels have ranged from the Arctic to the Antarctic and just about everywhere in between. She's waded ashore to barter for lemons with tribal chiefs in the South Pacific, explored Alaska's Inside Passage, the fjords of Scandinavia, the secret islands of the Caribbean and Greece-all from the deck of a small sailboat. She has also spent evenings waltzing at the Vienna Opera Ball, been a guest at the palace of the Prince of Morocco, and has enjoyed dinners at the White House. Her writing and photography have appeared in numerous magazines and newspapers across the US and Canada. While her schoolteacher mother in Brooklyn claimed half jokingly to be preparing her as a child to marry the then Prince of Rumania, she never did realize that ambition.
Sunstone Press, 9781632931245, 160pp.
Publication Date: July 1, 2016