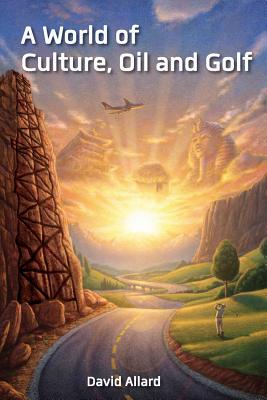 A World of Culture, Oil and Golf
Paperback

* Individual store prices may vary.
Description
Twists & turns in the world's roads to oil and golf ....
This book takes you there
* World cultures; people and places tourists do not typically see
*Oil business risk and wildcat wells
*Rebels, jungle, desert and offshore
*Golf in strange places; even if your caddy speaks no English
"JR Ewing in Dallas, Daniel Plainview in There Will Be Blood--fictional oil men live over-sized lives. David Allard lived a life in oil but the glamour was different--early morning shifts on a rig in the South China Sea, a handful of pistachios with friendly locals while drilling in Turkey, a cold beer in Cairo after a rough drive exploring a remote oasis. All through this oil and adventure, he dreams of being at home with his wife, her garden, and his young son. This is the real thing--meticulously documented and full of the little details that really matter." Lisa Margonelli, author of Oil on the Brain.
"A World of Culture Oil and Golf is a fascinating look into the global oil business and what it's like to be an insider traveling the global and navigating the amazing array of locales and personalities of the most valuable commodity mankind has ever traded. The book is an easy, fast-paced read and is entertaining and informative from the first page to the last. I truly enjoyed it and would recommend it to readers of any age." David W. Miller II, author of Hard Knocks MBA: The Search for Business Success and Job Satisfaction and Before and After: Auto Restoration Done RIGHT
With over 30 years in the oil business as a geologist, David Allard takes you on a wild worldwide adventure. From the oil patch of Midland Texas, to Houston, around the world and back to the USA; enjoy the trip
Total Publishing and Media, 9781633020368, 336pp.
Publication Date: November 7, 2016