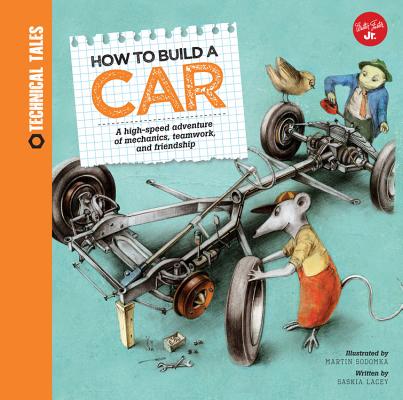 How to Build a Car (Hardcover)
A high-speed adventure of mechanics, teamwork, and friendship (Technical Tales)
Walter Foster Jr, 9781633220409, 64pp.
Publication Date: September 14, 2015
* Individual store prices may vary.
Description
Learn about car mechanics and teamwork as three unlikely friends work to build a miniature racer.
In How to Build a Car, three unlikely friends--Eli, a mouse; Phoebe, a sparrow; and Hank, a frog--decide to build a small motorcar together. The story follows the friendly trio as they learn all about how a car works and how it is constructed. Detailed illustrations show the inner workings of the car, teaching children the basics of how each part works together to get the car moving. Through hard work and perseverance, Eli, Phoebe, and Hank learn about both car mechanics and teamwork as they build a miniature racer. With the help of this sweet story, children will learn the different parts and functions of a car.
About the Author
Martin Sodomka is a graphic designer based in the Czech Republic. He is a self-published illustrator of books for children.
A beautiful storyteller, Saskia Lacey is an educational children's author with an extensive teaching background. Lacey has developed engaging children's stories and projects for a variety of publishers and illustrators.
Praise For How to Build a Car: A high-speed adventure of mechanics, teamwork, and friendship (Technical Tales)…
"It will not only connect you with the next generation, but also perhaps inspire its interest in our beloved hobby." - Hemmings Muscle Machines
"Young makers will find the Scrap Pack's enthusiasm infectious." - Kirkus Reviews
"It's never too soon to start your kiddos on the path to wrenching heaven. This "Technical Tales" book by Quarto Publishing is written for the little ones and tells the story of a group of animal friends designing a car." - Hot Rod
or
Not Currently Available for Direct Purchase