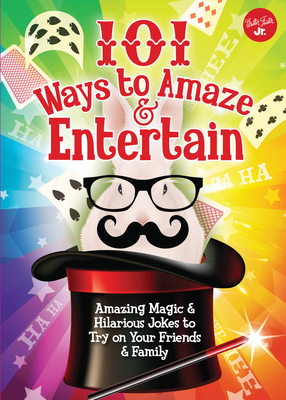 101 Ways to Amaze & Entertain (Paperback)
Amazing Magic & Hilarious Jokes to Try on Your Friends & Family (101 Things)
Walter Foster Jr, 9781633220423, 144pp.
Publication Date: October 5, 2015
Other Editions of This Title:
Library Binding (1/1/2017)
* Individual store prices may vary.
Description
101 Ways to Amaze & Entertain makes kids into magicians who are always ready with a trick or a gag. The easy-to-follow illustrations make learning magic simple!

Who isn't amazed by a perfectly pulled off magic trick? 101 Ways to Amaze & Entertain turns you into the charismatic magician who's always ready with a trick and clever quip. This magic guide is the perfect combination of tricks, jokes, pranks, and illusions that aren't only entertaining for you, but also acts as your manual to learning new tricks and jokes that will amaze and entertain your friends and family members.

With this book you can:
Make a magic want vanish up your nose
Remove a ring from a piece of string
Make predictions
Read your friends' minds
Make one arm longer than the other
Plus 96 other fun gags, magic tricks, and jokes to perform!
101 Ways to Amaze & Entertain can help you become a confident, funny magician by showing you unique tricks and gags with clear, easy-to-follow instructions and humorous illustrations. It provides tips on effectively telling jokes, how to deal with hecklers, as well as step-by-step instructions for 50 magic tricks. Additional instructions include performance tips that help you to create a complete magic act.

Once you master the tricks, jokes, pranks, and illusions in this book, you will be able to amaze your friends and family! All you need is some skill and confidence and you'll be surprising and making people laugh in no time.
About the Author
Peter Gross has filled theaters, wowed corporate headquarters and even appeared at the White House. He has performed on cruise ships around the world and been invited to perform at comedy festivals in Montreal, Vancouver and Charleston. Peter is based in the Boston area but performs regularly performs throughout the Northeast. Peter Gross is a comedian and knows how to do a couple of really cool tricks. He effortlessly combines stand-up comedy with sleight of hand to create a show that features audience interaction and participation, making each performance spontaneous and unique.
The Walter Foster Jr. Creative Team develops fun and imaginative books and kits for children of all ages. Encouraging learning and exploring, Walter Foster Jr. titles cover a wide range of subjects, including art, transportation, history, craft, gardening, and more.
Praise For 101 Ways to Amaze & Entertain: Amazing Magic & Hilarious Jokes to Try on Your Friends & Family (101 Things)…
"Would-be prestidigitators will find plenty of audience-mystifying feats in this collection of simple card/dice/ribbon/etc. tricks." - Booklist