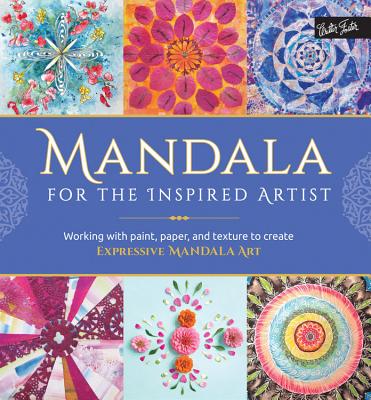 Mandala for the Inspired Artist (Paperback)
Working with paint, paper, and texture to create expressive mandala art
Walter Foster Publishing, 9781633220720, 128pp.
Publication Date: April 1, 2016
* Individual store prices may vary.
Description
Mandala for the Inspired Artist is sure to spark endless hours of DIY and craft mandala projects and imagination!
Learn how to create your own beautiful mandalas using a variety of tools and mediums. One part inspiration, one part how-to, Mandala for the Inspired Artist is chock full of unique and inspirational prompts, exercises, and approachable step-by-step projects that are perfect for crafters of any skill level. From making art with pencils, paints, and paper to tape, nature's textures, and found objects, readers will discover a variety of ways to make unique mandala artwork. This engaging and interactive book is packed with helpful tips and beautiful photographs of finished work to both instruct and inspire. Inside artists will discover how to draw and paint mandalas, how to arrange a mandala, and how to turn their own mandalas into inspiring artwork, home decor, and gifts. Included are interactive pages for brainstorming and sketching, in addition to fun templates for scanning, copying and/or coloring in. Full of inspirational instruction, sophisticated artwork, and a myriad of ideas to explore and build on, Mandala for the Inspired Artist is sure to spur endless DIY and craft projects and spark hours of mandala fun and imagination!
About the Author
Louise Gale is a British mixed media artist with a passion for color, pattern, and energy. She spends her days creating, running creative workshops, and assisting other creative souls with their businesses. Her artwork has been featured in The New York Times, Amulet Magazine, and Inc. Magazine. She also project manages Moyo magazine, the world's first online surface pattern design magazine and writes the "Colour Stories" column for the publication. She has also been published in Create the Style You Crave on a Budget You Can Afford (Skyhorse Publishing, 2014) and Paint Mojo (North Light Books, 2014). She teaches an online mixed media mandala class at www.louisegale.com.
Inspired by worldwide craft culture, Marisa Edghill creates beautiful things from simple materials. With just a few folds and cuts, origami paper effortlessly transforms into airy blooms and pretty tapes into layer cakes. Marisa shares her love of all things crafty on her blog Omiyage Blogs - a blog for creative women looking for DIY and craft inspiration, especially in washi tape / papercrafts. www.omiyageblogs.ca
Alyssa Stokes (www.alyssastokes.blogspot.com) is a Baltimore artist and art educator. She earned both her BFA and Masters in Art Teaching at MICA (2007) and believes her work in the community inspires and informs her fine art. Although she is a dedicated and life long Baltimorean, she loves to explore new territory. Her previous work has focused on documenting communities and allowed her to travel from Central America to Eastern Europe. Her more recent work explores woodland and nautical landscapes, using a variety of altered photo techniques.
Andrea Thompson is a wife and mother of four children, with a full-time job and a desire to paint every chance she gets to stay sane. She works mostly in watercolor, painting an assortment of mandalas and falling ladies. Life gets hectic, messy, full, and chaotic, and we all fall sometimes. But she is enjoying the fall, feeling the breeze, and living every moment to its fullest! Learn more at fallingladies-fallingladies.blogspot.com and fineartamerica.com/profiles/andrea-thompson.html.
Praise For Mandala for the Inspired Artist: Working with paint, paper, and texture to create expressive mandala art…
"Appropriate for readers of all artistic skill levels, the book also complements the recent adult coloring book trend, in which mandala designs have figured prominently."
- Library Journal
or
Not Currently Available for Direct Purchase