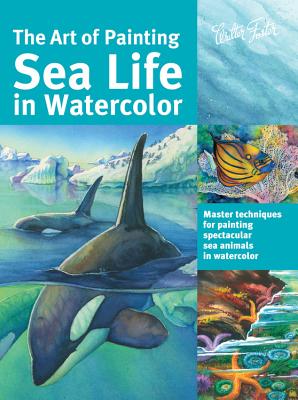 The Art of Painting Sea Life in Watercolor (Paperback)
Master techniques for painting spectacular sea animals in watercolor (Collector's Series)
Walter Foster Publishing, 9781633220881, 144pp.
Publication Date: March 1, 2016
* Individual store prices may vary.
Description
With helpful tips and easy-to-follow lessons, The Art of Painting Sea Life in Watercolor will teach readers everything they need to know to create beautiful works of art in watercolor.
The Art of Painting Sea Life in Watercolor opens with a guide to essential information on the necessary tools and materials for both sketching and painting, including pencils, paints and brushes, palettes, supports, and mediums. In addition to learning about basic drawing and painting techniques and color theory, readers will learn how to create compelling compositions, achieve depth, and render realistic textures.This new title in the Collector's Series features a large variety of stunning sea life, from an adorable sea otter to an magnificent whale. With a fresh, modern spin on this majestic subject, The Art of Painting Sea Life in Watercolor is a comprehensive and indispensable resource, packed with beautiful illustrations and expert instruction, for all artists smitten with the animal kingdom.
About the Author
Maury Aaseng has always been excited about drawing and art, starting with his grade school days, drawing dinosaurs and other animals in notebook margins. After graduating with a BFA in graphic design from the University of Minnesota—Duluth, Maury moved to San Diego to begin an illustration career. His work has spanned a variety of subject matter and illustration styles, including medical illustration, natural sciences, patient education, and watercolor. His artwork was featured in the Upstream People Gallery 7th Annual Color: Bold/Subtle Juried Online International Art Exhibition and at the Great Lakes Aquarium Gallery where he displayed his watercolor art in a show called Saturated Life. An avid nature enthusiast, Maury now lives in Duluth, Minnesota, with his wife and two children. Drawing inspiration from the northern forests and lakes that border Canada with his family is his greatest joy.
Louise De Masi is a wildlife artist who specializes in watercolor paintings. She sells many wildlife paintings on her etsy shop at www.etsy.com/shop/LouiseDeMasi.
Hailey E. Herrera is a watermedia and mixed media artist who loves learning new techniques and experimentation. She received her PhD at Texas A&M University, College Station and worked as a research scientist and lecturer at Virginia Commonwealth University for a short term before returning to her first love, art. She is a signature member of the Texas Watercolor Society. Visit her website at www.hailey-e-herrera.fineartamerica.com.
Ronald Pratt is an associate member of the National Watercolor Society, California Watercolor Association, and a member of several San Francisco Bay Area art groups. His award-winning paintings are proudly displayed in homes and galleries around the world.
www.ronaldpratt.com