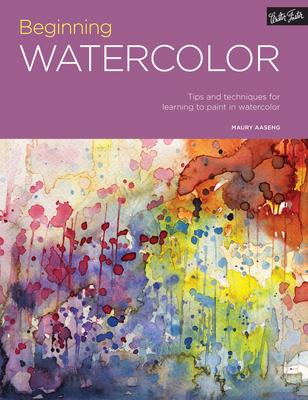 Portfolio (Paperback)
Beginning Watercolor: Tips and techniques for learning to paint in watercolor
Walter Foster Publishing, 9781633221079, 128pp.
Publication Date: October 24, 2016
* Individual store prices may vary.
Description
From the first brushstroke to the finishing touch, let the Portfolio series guide you as you begin your artistic journey in watercolor painting.
Beginning Watercolor teaches aspiring artists everything they need to know to get started painting in watercolor. This helpful resource begins with a basic introduction to the essential tools and materials artists need to get started, including choosing the right paintbrushes, watercolor paints, sketchbooks, and canvas.

Additionally, artists will learn the fundamentals of watercolor, as well as a variety of painting techniques, including creating washes, mixing colors, creating soft blends, rendering realistic textures, and working wet-into-wet. Beginning Watercolor guides beginners through a series of easy-to-follow, step-by-step projects covering a variety of watercolor methods and techniques, including helpful tips and advice when painting landscapes, still lifes, portraits, and more.

With helpful tips and detailed, beautiful artwork to guide and inspire, Beginning Watercolor is the perfect resource for watercolor artists just getting started in this colorful medium.
About the Author
Maury Aaseng has always been excited about drawing and art. After graduating with a BFA in graphic design from the University of Minnesota—Duluth, Maury began an illustration career, and his freelance work has spanned a variety of subject matter and illustration styles, including cartooning, medical illustration, natural sciences, patient education, and watercolor. An avid nature enthusiast, Maury lives in northern Minnesota with his wife and two children. Visit www.mauryillustrates.com and maurymedicalart.com.