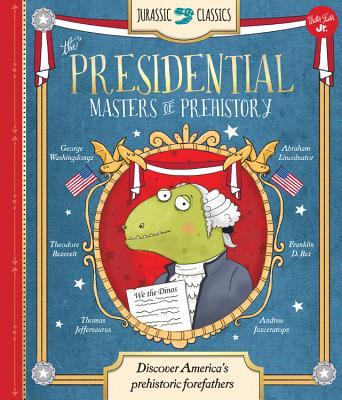 Jurassic Classics (Hardcover)
The Presidential Masters of Prehistory: Discover America's prehistoric forefathers
Walter Foster Jr, 9781633221093, 40pp.
Publication Date: July 1, 2016
* Individual store prices may vary.
Description
Deep underground, a mysterious cave of stone tablets has been discovered, and researchers are working frantically to investigate a treasury of Prehistoric American artifacts. In this collection, you will uncover the real stories of six legendary dinosaur leaders. Meet the greatest presidential heroes of ancient history:
George Washingdonyx, a baryonyx who led a brave new world
Thomas Jeffersaurus, the prehistoric pen of the revolution
Andrew Jaxceratops, a creature from the wild frontier who won over the herd
Abraham Lincolnator, the humble dinosaur who united the continents
Theodore Rexevelt, a determined tyrannosaur who clawed his way to the top
Franklin D. Rex, a savior in Prehistoric America's darkest hour
These are the legendary heroes of Jurassic Classics!
About the Author
A beautiful storyteller, Saskia Lacey is an educational children's author with an extensive teaching background. Lacey has developed engaging children's stories and projects for a variety of publishers and illustrators.
or
Not Currently Available for Direct Purchase