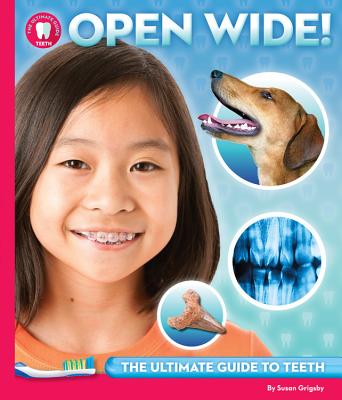 Open Wide: The Ultimate Guide to Teeth (Hardcover)
The Ultimate Guide to Teeth
Seagrass Press, 9781633221239, 48pp.
Publication Date: May 1, 2017
Description
Discover a world of mystery, history, and lore inside your mouth. Yes, we're talking about teeth In Open Wide, you'll find out everything you need to know about your teeth.
No matter what you call them, pearly whites, chompers, canines, or tooth fairy bait, teeth play a vital part in your life and have an interesting past. In Open Wide, you'll find out everything you need to know about your teeth from what ancient civilizations believed about teeth and how scientists use teeth to learn about past societies and solve investigations in the present. With helpful diagrams and tips, you'll learn how to keep your smile happy and healthy and how to keep your pet's teeth clean and pristine. What's in store for our teeth in the future? Read Open Wide to find out.
About the Author
Susan Grigsby lives in St. Louis, MO. Her children's books have received awards from groups including The American Farm Bureau, The American Horticultural Society, and the Macy's Reading is Fundamental - STEAM booklist. A teaching artist, she integrates poetry with social studies, science and the arts in schools, gardens, and museums. She also teaches in the Graduate Education Department at Webster University. When she lost her baby teeth, she donated them to scientists that used them to measure radiation exposure. She and thousands of other children received in return, pins that said "I gave my teeth to science."
Advertisement