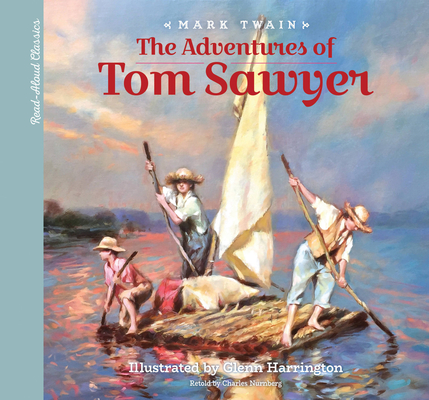 Read-Aloud Classics (Hardcover)
The Adventures of Tom Sawyer
MoonDance Press, 9781633221482, 28pp.
Publication Date: July 5, 2017
* Individual store prices may vary.
Description
Share this classic character and his quintessential stories about adventure, daring, and cleverness with a new generation with Read-Aloud Classic: The Adventure of Tom Sawyer.

First published in 1876, The Adventures of Tom Sawyer has been a children's favorite since its publication, and this edition adapts the classic into a story young children will love. Introduce your children to the adventures of the Tom Sawyer, a timeless character full of mischief, silliness, and bravery. This faithful introduction brings to life the parts of Tom Sawyer that young children will understand and enjoy, while also stepping around inappropriate portions.

The modern world is bursting at the seams with technological games and distracting screens for kids to occupy themselves with. The Read-Aloud Classics series is the perfect thing to shows them that you can go on incredible adventures without a controller and experience wonderful stories without a touch screen. Best of all, you will create memories as you read the stories together.
About the Author
Mark Twain (1835-1910) grew up in Hannibal Missouri. He began his career as a journeyman printer and journalist. His youthful experiences along the Mississippi inspired some of his most famous works--and The Adventures of Huckleberry Finn. In addition to his well-known works of fiction, he was also a prolific travel writer. Among his best-known works is Life on the Mississippi. He was also a star of the lecture circuit.
Glenn Harrington's paintings have been published on more than 600 book covers, including such classics as Room with a View, Pride and Prejudice, Wuthering Heights, Man and Superman, Women in Love, Dangerous Liaisons, The Golden Bowl, and Mansfield Park. His portrait work is also highly regarded, having received the Portrait Society of America's William Draper Grand Prize in 2007, Honor Award in 2008 and 2005, and Certificate Awards in 2009 and 2004 during its international juried exhibitions. Harrington's portrait of Maria Callas was used to promote the Tony Award winning play Master Class.
Charles Nurnberg has been a publisher for 45 years. He has worked with many acclaimed authors and helped to create many wonderful books, including Puff the Magic Dragon, Over the Rainbow, and The Night Before Christmas. He's the co-author of Alice in Wonderland: Down the Rabbit Hole, Around the World in Eighty Days, Alice in Wonderland: The Mad Hatter's Tea Party and others.