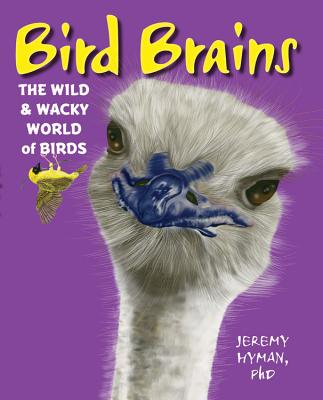 Bird Brains (Hardcover)
The Wild & Wacky World of Birds
MoonDance Press, 9781633221536, 80pp.
Publication Date: April 10, 2017
* Individual store prices may vary.
Description
Loaded with remarkable bird behaviors and full-color illustrations from cover to cover, Bird Brains is a perfect blend of science and entertainment for young children and kids.

Birds do the wildest things! In Bird Brains, learn how birds use sound, color, and even dances to communicate with each other, plus you'll see how they use camouflage, dive-bomb, and projectile vomit to discourage predators. Not only that, you'll get the full story on how they build nests with sticks, stones, feathers, vines, mud, saliva, and even mucus. Bird Brains comes loaded with full-color illustrations to showcase these cool behaviors.

Here's a preview of some of the cool facts you'll find in Bird Brains, did you know that:
Birds are smart! Crows watch traffic lights in big cities so cars can break open hard nutshells.
Birds are strong! Raptors can withstand G-forces of more than 27 Gs when they swoop down to capture prey. That's three times more than a fighter jet pilot can stand without passing out.
Birds are gross! Parent birds feed regurgitated food to hatchlings.
A whole world of wonder awaits any inquisitive kid!
About the Author
Jeremy Hyman, PhD, teaches ornithology and animal behavior at Western Carolina University in Cullowhee, NC. He studies the interplay of cooperative and competitive interactions in territorial communication in birds. He has written birding columns for a regional newspaper and gives talks to birding enthusiasts.
Haude Levesque, PhD, was born on the French coast. As a child, Haude liked to draw and observe animals. She started her biology degree in France and moved to Canada to study fish. She works in Minnesota, where she teaches physiology and marine biology at the University of Saint Thomas and lives with her husband, two sons, and two cats.
or
Not Currently Available for Direct Purchase