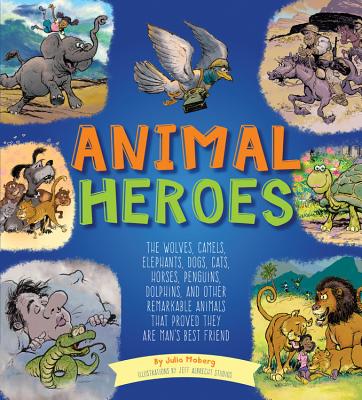 Animal Heroes
The Wolves, Camels, Elephants, Dogs, Cats, Horses, Penguins, Dolphins, and Other Remarkable Animals That Proved They Are Man's Best Friend
Hardcover

* Individual store prices may vary.
Description
Discover 40 fascinating stories of remarkable animal heroes told with humorous rhymes, fun historical facts, and zany illustrations.
Take a look at the remarkable roles animals undertake every day to help humans and other animals. In wonderfully rhythmic poetry, these stories tell the tales of animals that performed heroic acts, rescued people, saved lives, and even prevented disasters.

From a dog named Delta who saved her owner's life three times before Mount Vesuvius erupted in 79 AD, to LuLu the potbellied pig who called for help when her human got sick, these stories will resonate with readers and animal lovers of all ages. In Animal Heroes you'll discover why General George Washington returned a little dog to the British and probably saved thousands of lives. Ever heard of the heroic baboon named Jackie who acted as a WWI soldier in the frontline trenches of France and Flanders? Incredible stories like this await!
Praise For Animal Heroes: The Wolves, Camels, Elephants, Dogs, Cats, Horses, Penguins, Dolphins, and Other Remarkable Animals That Proved They Are Man's Best Friend…
"Students will enjoy picking up this book and learning about the valiant animals that risked their lives for others"
- School Library Connection
—
-
"vivid and comically illustrated....This latest offering from Moberg will educate and entertain die-hard animal lovers."
- School Library Journal
—
-
MoonDance Press, 9781633221598, 96pp.
Publication Date: April 10, 2017
About the Author
Julia Moberg is the author of the young adult novel Skies Over Sweetwater (2008); the award-winning Presidential Pets (2012), which was honored as the official book for the Clinton Foundation's Presidential Pets exhibition at the Clinton Presidential Center; and Historical Animals (2015).
Her books have been Children's Book-of-the-Month Club main selections, Scholastic Book Fairs selections, Martin Luther King Jr. Memorial Library Staff Picks, and American Library in Paris Kids Club Selections. They have also received superb reviews from Publishers Weekly, Booklist, School Library Journal, Children's Book Council, and many more.
Julia received her BFA and MFA in Dramatic Writing at the Tisch School of the Arts of New York University and was the former editor of the Children's Book of the Month Club.
Jeff Albrecht has illustrated projects for Disney, Warner Bros., Marvel Comics, and DC Comics. His animation work has been seen on Cartoon Network's Samurai Jack, Dexter's Laboratory, and Powerpuff Girls. He's illustrated numerous books with his zany cartoon style, including Presidential Pets,Historical Animals, and numerous others.
or
Not Currently Available for Direct Purchase