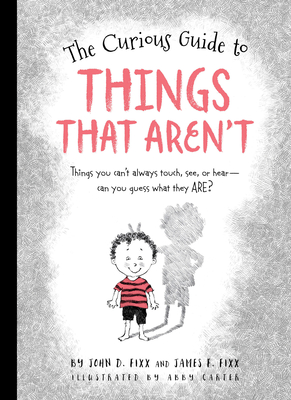 The Curious Guide to Things That Aren't
Things you can't always touch, see, or hear. Can you guess what they are?
Hardcover

* Individual store prices may vary.
Walter Foster Jr, 9781633221765, 112pp.
Publication Date: November 7, 2016
About the Author
Abby Carter has drawn all of her life. When she was eleven, she and her grandmother had a card business: Abby drew and her grandmother sold. In college she studied art, but also liked science and nutrition, and wished there was a way to combine them all. Several years later, she and her husband founded Fresh Samantha, the juice company, which fulfilled that dream. In addition to her graphics for Fresh Samantha, she has illustrated many picture books and chapter books for children. She loves to draw odd characters and hates to draw straight lines. Abby lives with her husband and two children in Connecticut.
John Fixx is headmaster of The Country School in Madison, Connecticut. Things that Aren't is the precursor to his father's three collections of puzzles: Games for the Super-Intelligent (illustrated by Mary Durling), More Games for the Super-Intelligent, and Solve It! His experience and insight guiding the K-8 population as headmaster at various schools bring a fresh new tone to children's literature.