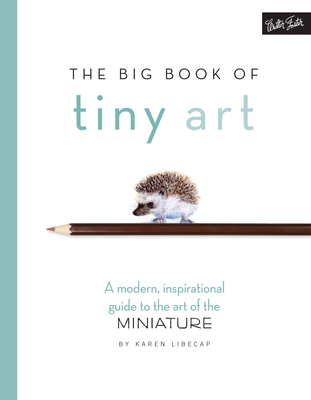 The Big Book of Tiny Art (Paperback)
A modern, inspirational guide to the art of the miniature
Walter Foster Publishing, 9781633221796, 208pp.
Publication Date: October 24, 2016
* Individual store prices may vary.
Description
How small is small? In The Big Book of Tiny Art you'll discover a dynamic collection of miniature artwork, most no bigger than a large coin, covering a wide range of subjects, from animals and food to people and places. Showcasing painting and drawing, this inspirational guidebook provides an up-close look at the art of the miniature. Learn to paint and draw your own tiny masterpieces as you follow the simple step-by-step instructions. Each section of the book includes a gallery of finished miniature artwork, along with practice pages for you to draw the projects featured in the book or create your own unique artwork. Packed with amazing illustrations, The Big Book of Tiny Art is a feast for both the eyes and the creative spirit.
About the Author
Karen Libecap has considered herself an artist for more than 35 years. She attended Kent State University for graphic design and was an art director in various major cities, including Chicago and Cincinnati. Karen works in varied mediums, including watercolor, acrylics, clay, encaustic wax, pastels, and oils. She was awarded the Hoover Arts Alliance Award from the Alabama Pastel Society in 2013. Visit www.etsy.com/shop/KarenLibecap.