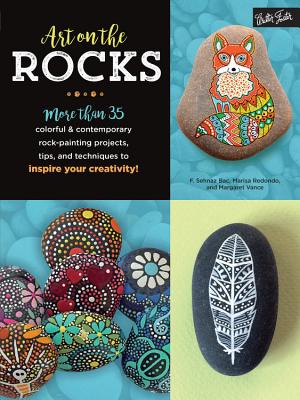 Art on the Rocks (Paperback)
More than 35 colorful & contemporary rock-painting projects, tips, and techniques to inspire your creativity!
Walter Foster Publishing, 9781633222168, 128pp.
Publication Date: May 1, 2017
* Individual store prices may vary.
Description
Grab your colors, head outside, and start painting beautiful works of art on stones. Art on the Rocks, an all-inclusive instruction book, is packed with creative ideas, step-by-step projects, and endless inspiration for creating masterpieces that are truly one with nature. 

Art on the Rocks offers a colorful, modern approach to rock painting. After an initial overview of how to gather and prepare your rocks, as well as a basic review of the tools and materials necessary for each project, three talented rock-painting artists demonstrate a range of contemporary designs for you to experiment with.

With the patterns, animals, mandalas, and loads of other designs featured inside, you will never be without inspiration for what to paint on your next stone. Each project includes easy-to-follow instructions and invites creativity and originality, encouraging you to sit back, relax, and develop your own unique Art on the Rocks.
About the Author
Artist F. Sehnaz Bac is celebrated for her radiantly colorful and charmingly painted stones, which she sells on Etsy as I Sassi Dell'Adriatico (The Adriatic Stones). Sehnaz lives in Alba Adriatica, Italy, a small town on the Adriatic Sea, and has more than 450,000 Facebook followers.
Artist and illustrator Marisa Redondo uses primarily watercolors and oils to create artwork inspired by nature. Growing up in the heart of San Diego, drawing was how she found a calm balance in the busy city. Currently based in Northern California, Marisa is fascinated by nature's creations and the little pieces of life that often go unnoticed, from the fine lines of feathers to the spores of a dandelion. Through watercolor, she explores the organic patterns and intricate details impressed on everything from the earth. Her paintings are a mix of the modern city she came from and the natural land where she now live. Learn more at www.riverlunaart.com.
Artist Margaret Vance paints beautifully vibrant and colorful rock art full of intricate detail and pattern. As in nature, no two painted stones are alike. Each stone and its design is unique. Margaret works with each stone's shape, size, and texture to create a singular mix of art and nature. Learn more at www.etherealandearth.com.
or
Not Currently Available for Direct Purchase