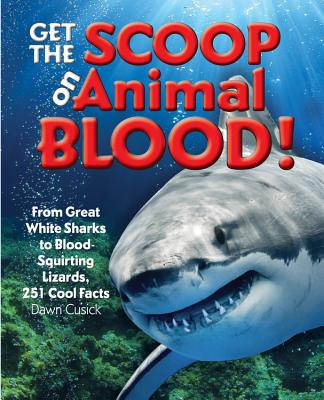 Get the Scoop on Animal Blood
From Great White Sharks to Blood-Squirting Lizards, 251 Cool Facts
Hardcover

* Individual store prices may vary.
Description
Have you ever wondered why bugs have green blood? Or how vampire bats drink blood for meals? Get The Scoop on Animal Blood gives you all the gory, scientific details on what flows in animals veins.

This book is hot blooded! And cold blooded! And green blooded! In fact, when you dive into the world of animals and their blood, things can get pretty gross and weird. But we know you like gross and weird!

In this installment of the award-winning Get the Scoop series, you will find out why deep-diving mammals have larger blood cells than other animals and more of them. Have you ever wondered how vampire bats prefer to eat their bloody breakfast? We'll tell you! How about why stink bugs have green blood, or while horned lizards squirt blood from their eyes? We know that stuff, too! 

Get the Scoop on Animal Blood comes with more than 250 wild and awesome facts about animal blood, and also has over 200 color photos of animals and, you guessed it, their blood. With this book, you will be neck deep in bloody science fun. 


 
Praise For Get the Scoop on Animal Blood: From Great White Sharks to Blood-Squirting Lizards, 251 Cool Facts…
"Dawn's book GET THE SCOOP ON ANIMAL BLOOD is a perfect example of how to make science cool. There are so many wickedly entertaining facts about animal blood packed from cover to cover that you are guaranteed to find something fascinating on every single page. Whether it's squirrels and snakes or lions and lampreys, you'll discover that blood is used as everything from a deep sea diving system to a defensive weapon. Across the entire animal kingdom, Dawn shows why blood is one of the most remarkable substances on Earth."—HP Newquist, Author, THE BOOK OF BLOOD

"My favorite part about Dawn Cusick's writing is that she mixes basic facts with complex ideas. Students are drawn into the subject, grossed out, and learn at a deeper level, loving every minute. GET THE SCOOP ON ANIMAL BLOOD is a great read!"—Amanda Clapp, middle school science teacher
MoonDance Press, 9781633222274, 80pp.
Publication Date: November 7, 2017
About the Author
Dawn Cusick has authored a dozen nonfiction children's books that have won national and international awards from the Animal Behavior Society, the National Science Teachers Association, the Children's Book Council's Children's Choice competition, and more. Her books have been profiled on NPR and Yahoo News. She teaches biology at Haywood Community College in western North Carolina.
or
Not Currently Available for Direct Purchase