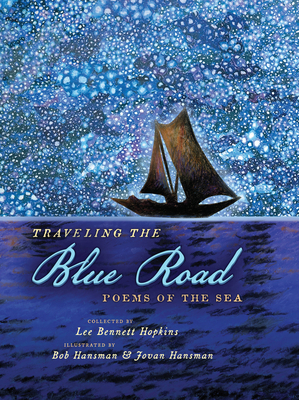 Traveling the Blue Road
Poems of the Sea
Hardcover

* Individual store prices may vary.
Praise For Traveling the Blue Road: Poems of the Sea…
"Traveling the Blue Road: Poems of the Sea, collected by America's formidable champion of poetry, Lee Bennet Hopkins, stunningly illustrated by a father-son team of Bob Hansman and Jovan Hansman is a masterful picture book that captures the scope of the influence of the sea on us....In the current climate of nonstop talk and hyperbole, a dozen poets distill language that speaks volumes, ostensibly to children, but to anyone willing to stop long enough to inhale this 32 page treatise on voyages....The back matter of the book has notes on the historical events of each poem and gives a background on each of the stellar poets who contributed to this volume. The value of such poetry is celebrated by the glorious artwork of Bob and Jovan Hansman with a motif that could be interpreted as endless light dancing on water or the vastness of the starry sky above."--Vicki Cobb
- Huffington Post
"Care and research are evident throughout this poignant book, which is much more than its subtitle, "Poems of the Sea"; in essence and in sum, it is a history of inhumanity."
- Kirkus Reviews
"From Columbus's journey in 1492 to seventeenth-century slave ships, the infamous Titanic, and present-day ocean dwelling communities, the terrible majesty of the sea is celebrated through a collection of poems penned by a bevy of award-winning authors and poets, each with a unique voice and story. Striking mixed-media illustrations feature sailors, explorers, and refugees amid the starry skies and dark waves, conveying all the fluid strength and timelessness of the ocean."
- ForeWord Reviews
"Glorious poetry, eye-opening history, and a heart-expanding experience. What a book!"
- Playing by the Book
"Hopkins compiles 14 previously unpublished poems connected to major sea voyages in this arresting collection....The Hansmans—a father-son illustrator team—blend archival images into their dramatic mixed-media collages..."
- Publishers Weekly
"This collection of poetry touches on such historic voyages as the Mayflower, the terror of the Middle Passage and the modern-day troubles of desperate migrants. The often serious verse is beautifully illustrated by Washington University professor Bob Hansman and his son, Jovan."
- St. Louis Post-DispatchA 2018 Notable Poetry Book for Children
- National Council of Teachers of English
Seagrass Press, 9781633222762, 32pp.
Publication Date: October 17, 2017
About the Author
Lee Bennett Hopkins has compiled more anthologies for children than anyone in the history of children's literature. In 2011, Lee Bennett Hopkins was recognized by Guinness World Records as the world's most prolific anthologist of poetry for children, with 113 titles to his credit! He has helped make poetry accessible to young readers in more than 100 volumes of his own writings and compilations. He has won numerous awards including five American Library Association Notable Books, the Mississippi Medallion for "lasting contributions to children's literature," National Council of Teachers of English Excellence in Poetry for Children Award (2009), and a Christopher Award for "affirming the highest values of the human spirit."