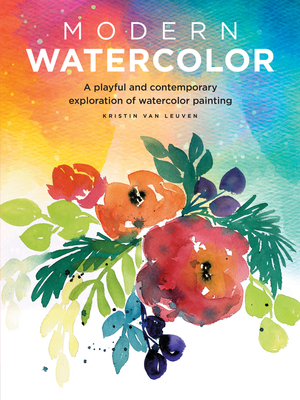 Modern Watercolor (Paperback)
A playful and contemporary exploration of watercolor painting (Modern Series)
Walter Foster Publishing, 9781633223561, 128pp.
Publication Date: September 19, 2017
* Individual store prices may vary.
Description
From beautifully dynamic leaves, flowers, and trees to simple geometric shapes and patterns, Modern Watercolor provides a colorful and fun approach to working with watercolor.

It's time to get your feet wet with watercolors! This dynamic and inspirational guide will set you down a path of exploration as you learn to play with watercolors. Learn to use basic techniques and principles to create beautiful, expressive works of art.

With Modern Watercolor, discover how to paint in watercolor by harnessing the medium's unique transparent qualities to create stunning works of art, stationery, gifts, and more. From selecting your first watercolor paints to learning to blend colors into a unique palette, we are here to guide you as you begin your journey. By the end, your paintings will be cohesive and rich.

The easy-to-follow lessons explore using watercolor on different surfaces, how to create basic shapes using fun techniques, and how to create myriad gorgeous effects that can be achieved with different brushes and strokes. You can even learn how to add layers of dimension and texture, as well as how to work with resist techniques to create pretty patterns and gorgeous backgrounds.  

Whether you're an experienced artist seeking a playful escape or a beginner who has never held a paintbrush, there's something for everyone in Modern Watercolor. 
About the Author
Kristin Van Leuven is a native Arizonan who loves to paint. What began as a hobby that served as a distraction from real life has become a career via Hello Lovely People, Kristin's online art shop that sells her prints, portraits, clothing, and more. Author of Modern Watercolor and Your Year in Art: Watercolor, both from Walter Foster Publishing, Kristin enjoys making art for people's homes and sees loveliness in all people. Learn more at lovelypeople.bigcartel.com.