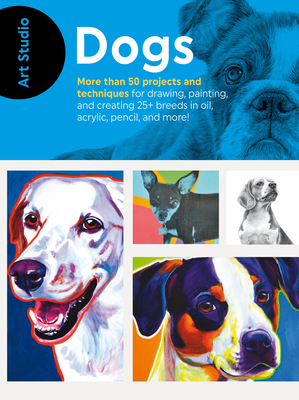 Art Studio (Paperback)
Dogs: More than 50 projects and techniques for drawing, painting, and creating 25+ breeds in oil, acrylic, pencil, and more!
Walter Foster Publishing, 9781633223646, 144pp.
Publication Date: October 24, 2017
* Individual store prices may vary.
Description
From pencil, to paint, to mixed media, no medium is left untouched in Art Studio: Dogs, a perfect choice for artists who are just getting started.

Love art and dogs? Now you can get the best of both of worlds with Art Studio: Dogs. Created especially with beginning artists and art enthusiasts in mind, this engaging book includes a variety of fun and unique drawing, painting, and mixed media projects designed to help you transform your love of canines into beautiful works of art.

After a review of some basic tools, materials, and helpful art techniques, you'll discover how to create your favorite furry companions in graphite, oil, acrylic, colored pencil, and more—step by step! From traditional drawing and painting projects, to colorful pop art portraits, dog doodles, and mixed media wall art, there is a little something for every one and every type of dog lover in Art Studio: Dogs.
About the Author
Founded in 1922 by artist Walter T. Foster, Walter Foster Publishing, an imprint of The Quarto Group, is the world's leading publisher of instructional art books and kits for adults and children. Walter Foster's diverse selection of drawing, painting, doodling, and mixed media art books and kits have created a foundation for millions of beginning, intermediate, and advanced artists looking to hone their talents, learn new techniques, and discover different mediums. From color mixing recipes and art tools to the fundamentals of drawing and painting, Walter Foster's books cover a wide variety of topics and mediums across a broad spectrum of traditional and eclectic subject matter for artists of all skill levels. Walter Foster Publishing continues to expand its offerings every year, producing cutting-edge art-instruction books and kits for a worldwide audience.