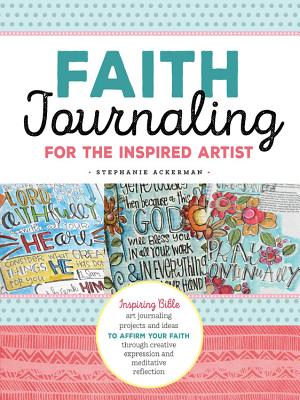 Faith Journaling for the Inspired Artist (Paperback)
Inspiring Bible art journaling projects and ideas to affirm your faith through creative expression and meditative reflection
Walter Foster Publishing, 9781633223653, 144pp.
Publication Date: November 21, 2017
* Individual store prices may vary.
Description
Faith Journaling for the Inspired Artist shows you how to combine your love of art with your faith! Engaging prompts, exercises, and lettering techniques will ignite your imagination.

When faith and art intersect, pure magic happens. Faith Journaling for the Inspired Artist is a dynamic and inspiring resource for learning art journaling in Bibles, prayer journals, daily devotionals, and creative life planners. This beautifully designed guide features dozens of easy-to-follow drawing, doodling, and lettering techniques that demonstrate how to develop beautiful, uplifting artwork.

A wide range of creative exercises deliver the encouragement needed to explore faith through the creative process. Whether working with colored pencils, markers, watercolor, or stamps, when it comes to faith journaling, there are no rules! In Faith Journaling for the Inspired Artist, you'll not only learn how to expand your artistic horizons, but also discover how to give yourself permission to create personal artistic expressions of your faith.
About the Author
Stephanie Ackerman is an ordinary girl living an extraordinary life where she gets to do what she loves for a living. Her purpose is to create, inspire, teach, and encourage others through creative arts. At any given moment she might be praying, doodling, running, baking chocolate chip cookies, doing laundry, trying to match socks, doing more laundry, organizing piles, at the airport or coming home from the airport, stitching, taking a nap (which I do every day) or all of the above.