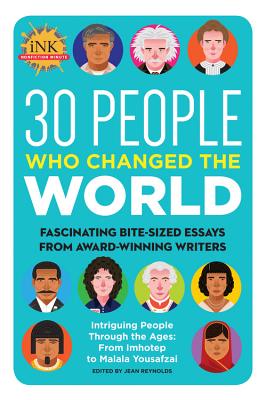 30 People Who Changed the World
Fascinating bite-sized essays from award-winning writers--Intriguing People Through the Ages: From Imhotep to Malala Yousafzai
Paperback

* Individual store prices may vary.
Description
Selected for Notable Social Studies Trade Books for Young People 2018 by NCSS-CBC, a cooperative project of the National Council for the Social Studies and the Children's Book Council

We should never forget the people who shaped the world we live in, and 30 People Who Changed The World highlights thirty individuals in engaging, kid-friendly "nonfiction minute"s.

What do Julius Caesar, Rosa Parks, and Vincent van Gogh all have in common? They're all fascinating figures who shaped our world! Learn about these and so many more historical VIPs in 30 People Who Changed the World, brought to you by today's award-winning and best-known children's authors.

In this collection of 30 essays, each historical figure has a short piece -- called a "nonfiction minute" -- dedicated just to them. Learn how African-American singer Marian Anderson sang her way to the White House, and how an indentured servant named Juan de Pareja became an artist. Read all about Albert Einstein's theory of relativity -- yes, it can be explained in a minute! These nonfiction "appetizers" are quick and easy-to-read, and will have children begging to know more about the world around them.

Authors contributing nonfiction minutes to this collection are Jan Adkins, Sarah Albee, Vicki Cobb, Jan Greenberg, Cheryl Harness, Kerrie Logan Hollihan, Carla Killough McClafferty, Roxie Munro, Amy Nathan, Doreen Rappaport, Andrea Warren, and Jim Whiting. With an introduction by Jean Reynolds.
Praise For 30 People Who Changed the World: Fascinating bite-sized essays from award-winning writers--Intriguing People Through the Ages: From Imhotep to Malala Yousafzai…
"The 30 people profiled in this handsomely produced nonfiction book are certainly interesting and mostly exemplary. The compendium contains someone to interest everyone, including contemporary role models (Malala Yousafzal), artists of color (Edmonia Lewis and Juan de Pareja), and explorers (Roald Amundsen and Robert Scott). Authors, scientists, and civil rights icons are all represented....Photos, maps, art reproductions, and even graphs keep the layout lively. The authors...clearly know how to sum up their subjects in three-to-five pages while whetting young readers' appetites. This is a good jumping-off platform to longer similar essays..."
- Booklist
"Biographical highlights and sidelights from a dozen, mostly veteran, nonfiction authors.Originally posted on the Nonfiction Minute blog, these short essays focus less on biographical details than on why their subjects are worth knowing.....Hellegouarch fills gaps in the array of period photos, documents, and art with mildly dramatic watercolor scenes, and each entry ends with a few leads to further information (often one of the writer's own works). Brisk and appealing historical vignettes, as readable as they are revealing."
- Kirkus Reviews
"This is a great resource for a struggling reader or for someone who is not sure who they may want to learn more about. Recommended"
- School Library Connection
Seagrass Press, 9781633223776, 144pp.
Publication Date: October 10, 2017
About the Author
iNK THINK TANK is a consortium of award-winning nonfiction writers who promote the use of nonfiction in classrooms through programming that helps teachers use real books to teach, inspire, and excite their students. Learn more at inkthinktank.com and www.nonfictionminute.org
or
Not Currently Available for Direct Purchase