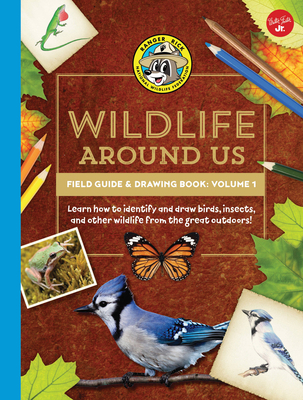 Ranger Rick's Wildlife Around Us Field Guide & Drawing Book (Paperback)
Volume 1: Learn how to identify and draw birds, insects, and other wildlife from the great outdoors! (Ranger Rick's Field Guides)
Walter Foster Jr, 9781633223837, 80pp.
Publication Date: September 5, 2017
* Individual store prices may vary.
Description
An amazing variety of wildlife surrounds you each and every time you hike through the great outdoors. With Ranger Rick's Wildlife Around Us Field Guide & Drawing Book: Volume 1, you can learn more about these wild animals and become a naturalist-in-training!

A naturalist is someone who studies natural life, like plants and animals. With this book, you will do just that! Inside you will find the habitat, diet, and common behaviors of 26 different North American animals, and how you can spot them outside. The step-by-step drawing instructions inside will help you practice drawing those animals in your own naturalist notebook.

This book will help you prepare for outdoor excursions, showing you how to pack your backpack, take great photos, record notes, and animal create drawings. The fieldwork tips, fascinating animal facts, and colorful photographs throughout will aid you in your quest for animal knowledge.

So join Ranger Rick and learn about the insects, birds, reptiles, and amphibians that surround you, from the Pacific tree frog and monarch butterfly to the bald eagle. Ranger Rick's Wildlife Around Us Field Guide & Drawing Book: Volume 1 takes an adventurous look at the crawling, hopping, flying world of North America.
 
About the Author
The Walter Foster Jr. Creative Team develops fun and imaginative books and kits for children of all ages. Encouraging learning and exploring, Walter Foster Jr. titles cover a wide range of subjects, including art, transportation, history, craft, gardening, and more.