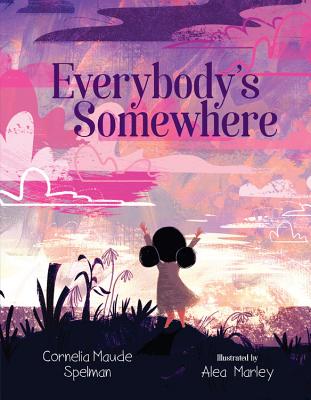 Everybody's Somewhere (Hardcover)
Seagrass Press, 9781633223844, 32pp.
Publication Date: October 17, 2017
* Individual store prices may vary.
Description
Selected for Notable Social Studies Trade Books for Young People 2018 by NCSS-CBC, a cooperative project of the National Council for the Social Studies and the Children's Book Council

Everybody's somewhere, where are you?
I'm right here, I'm somebody, too.
Some are in the country, some are in the town.
Everybody's somewhere, up or down.

Everybody—moms, dads, grandpas, grandmas, friends, and people you've never met—is somewhere in the world, doing something right now, even if you can't see them.
 
Everybody's Somewhere is a fun, colorful introduction to the idea that everyone you've met, or haven't met, is somewhere. Written perfectly for young minds that might not fully comprehend how big the world is, or the number of people on it, this fun children's book will plant the seeds of the ideas in their minds.

With its playful poetry, bouncy rhymes, Everybody's Somewhere asks children to expand their perspective, and follows-up with fun illustrations. Award-winning author Cornelia Maude Spelman invites children to imagine other people in other places doing different things, to be delighted by new ideas, and to be reassured that everyone is important and sharing the same world.
About the Author
Cornelia Maude Spelman remembers a book she loved as a child that taught her about seeing things from different perspectives. The book's illustrations showed a cow from the point of view of other farm animals who were of different sizes and heights, and stood at shorter or longer distances from the cow.  Each animal's image of "cow" was unique. The idea of different perspectives has interested her ever since. A mother and grandmother, Cornelia lives outside of Chicago, Illinois.
Praise For Everybody's Somewhere…
"an altogether comforting package."
- Kirkus Reviews
"This attractive title has simple rhyming text and well-matched illustrations featuring a range of places people can be, even if they can't be seen....The playful images, with a diverse set of wide-eyed characters including a child in a wheelchair running a marathon, are what really draw in readers.....The combination of repetitive, easy words and constructive illustrations make it favorable for new readers as well..... this book provides opportunities for thoughtful discussion."
- School Library Journal