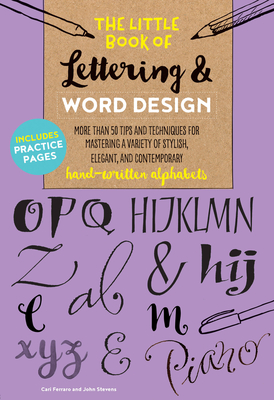 The Little Book of Lettering & Word Design (Paperback)
More than 50 tips and techniques for mastering a variety of stylish, elegant, and contemporary hand-written alphabets (The Little Book of ...)
Walter Foster Publishing, 9781633224711, 128pp.
Publication Date: March 6, 2018
* Individual store prices may vary.
Description
In this new series from Walter Foster Publishing, artists and art hobbyists alike will delight in learning a variety of fun and interesting art topics in a portable format boasting a fresh, contemporary design. Filled with open practice pages, creative exercises, and art prompts, The Little Book of Lettering & Word Design encourages interactivity for immediate results, while also teaching beginners the fundamentals of the featured medium in an engaging and fun way.

In The Little Book of Lettering & Word Design, aspiring artists will discover how to create a range of classic and contemporary calligraphy and hand-lettered fonts. Internationally acclaimed calligrapher John Stevens and other renowned hand-lettering artists lead the way with tips and techniques.  

Following an introduction to inks, nibs, pens, and papers, as well as an overview of basic techniques, readers will learn dozens of original alphabets and lettering designs ranging from funky and fun, to elegant and embellished. Tips for adding personal touches to letters and designing personalized alphabets are also included!

With an alphabet and lettering design for every occasion and easy-to-follow instructions, this book is perfect for everyone who wants to create stunning handwriting and calligraphy.
About the Author
Cari Ferraro has been practicing calligraphy for over three decades. She has studied with many of the finest calligraphers teaching today, and taught broad pen calligraphy to children and adults. Her design business, Prose and Letters, has fulfilled calligraphy commissions for weddings, corporations, institutions, and individuals since 1982. She also maintains a website as an online portfolio and catalog of her cards, prints, books, and wedding certificates. Her calligraphic manuscript books are collected by individuals and libraries around the country. Her work has been featured in the magazines Victoria, Letter Arts Review, and Somerset Studio; the Calligrapher's Engagement Calendar; and several wedding books. Cari makes her home in Northern California.
John Stevens is an internationally known calligrapher, designer, and lettering artist with 30 years of experience in the field. An art major and former musician, he found his true calling when he was introduced to lettering while apprenticing in a sign shop. John's prestigious client list includes Rolling Stone, Time, Reader's Digest, and Newsweek magazines; Pepsi; Atlantic Records; HBO; Lucasfilms; IBM; Disney; and many others.