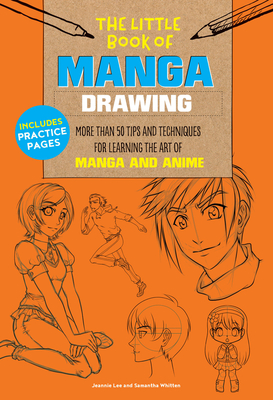 The Little Book of Manga Drawing (Paperback)
More than 50 tips and techniques for learning the art of manga and anime (The Little Book of ...)
Walter Foster Publishing, 9781633224735, 128pp.
Publication Date: March 6, 2018
* Individual store prices may vary.
Description
In this new series from Walter Foster Publishing, artists and art hobbyists alike will delight in learning a variety of fun and interesting art topics in a portable format boasting a fresh, contemporary design. Filled with open practice pages, creative exercises, and art prompts, The Little Book of Manga Drawing encourages interactivity for immediate results, while also teaching beginners the fundamentals of the featured medium in an engaging and fun way.
 
In The Little Book of Manga Drawing, beginning manga artists and aspiring illustrators will discover a variety of basic manga drawing techniques through step-by-step projects, creative prompts, and engaging ideas to ignite creativity.

From learning how to master the proportions and shape of heads and bodies, to understanding how to create personally relevant manga characters, this fun guidebook covers all the basics. 

After an introduction to the tools you'll use when creating manga, you'll dive into how to draw and colorize your own manga artwork with the help of dozens of techniques and helpful instructions. You'll also learn to draw props, costumes, and color, as well as how to draw manga chibis, to round out this comprehensive book.
About the Author
Jeannie Lee's art education includes more than seven years of instruction under contemporary Western artist Ji Young Oh, as well as two years studying traditional character animation at California Institute of the Arts. Her work experience spans across multiple companies, including Gaia Interactive, Marvel Entertainment, Inc., TOKYOPOP, and UDON Entertainment. She currently works as a senior artist at Sanshee and letters manga for UDON and VIZ Media (and fits video games and anime in wherever she can).
Samantha Whitten is a Virginia-based independent artist who specializes in adorable illustrations. She has spent all of her life drawing and has pursued a career in illustration and graphic design, learning on her own and dabbling in a variety of projects. She earns a living by selling a unique range of self-produced products featuring her artwork, employing a cute and fun style that appeals to all ages, as well as illustrating a web comic in her spare time. Visit her website at www.littlecelesse.com for more.