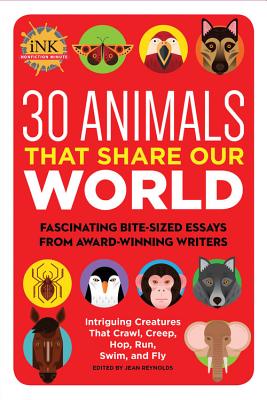 30 Animals That Share Our World (Paperback)
Fascinating bite-sized essays from award-winning writers--Intriguing Creatures That Crawl, Creep, Hop, Run, Swim, and Fly (Got a Minute?)
Seagrass Press, 9781633225008, 144pp.
Publication Date: April 3, 2018
* Individual store prices may vary.
Description
Do you know who the world's smartest animal is? How exactly do spiders spin their webs? Have you heard about the tiniest frog on earth? Find out the answers to these questions and learn so much more about our world's fascinating creatures in 30 Animals That Share Our World!

Written by today's best known, award-winning children's authors, each bite-sized essay in this collection gives kids an exciting peek into the amazing animal kingdom.

This collection, which follows 30 People That Changed the World, features essays from the world-famous NonFictionMinute blog. These essays are quick to read, and will have children begging to know more about the world around them.
 
About the Author
iNK THINK TANK is a consortium of award-winning nonfiction writers who promote the use of nonfiction in classrooms through programming that helps teachers use real books to teach, inspire, and excite their students. Learn more at inkthinktank.com and www.nonfictionminute.org