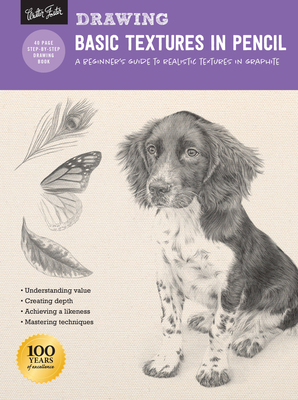 Drawing (Paperback)
Basic Textures in Pencil: A beginner's guide to realistic textures in graphite (How to Draw & Paint)
Walter Foster Publishing, 9781633225923, 40pp.
Publication Date: November 6, 2018
* Individual store prices may vary.
Description
Gain the drawing skills you need to create textured works like a pro with Drawing: Basic Textures in Pencil.

From handling the pencil and mastering basic techniques to learning about value, form, and shading, Basic Textures in Pencil teaches beginning artists all of the elements they need to achieve realistic results in their drawings.

Intuitive step-by-step lessons then demonstrate how you can put your newfound skills to use by rendering everything from metal, glass, and wood textures to fur and feathers. Each concept is clearly explained in easy-to-comprehend language, making this book an accessible and approachable resource for beginning artists and art enthusiasts.
 
Designed for beginners, the How to Draw & Paint series offers an easy-to-follow guide that introduces artists to basic tools and materials and includes simple step-by-step lessons for a variety of projects suitable for the aspiring artist. Basic Textures in Pencil allows artists to widen the scope of their abilities, demonstrating basic pencil drawing techniques that allow beginners to re-create a variety of common textures and surfaces.
About the Author
Diane Cardaci was classically trained at the Art Students League of New York City, Parsons School of Design, and the School of Visual Arts. Her passion for both realism and nature led her to start her professional art career working as a Natural Science Illustrator in New York City, where she specialized in medical and natural science illustrations. Her work has been published by the American Museum of Natural History in New York City, as well as by major textbook companies such as Holt, Rinehart, and Winston. After studying portraiture with nationally acclaimed artists such as Nelson Shanks and John Sanden, commissioned portrait work soon became an important part of her artwork. She is a signature member of the American Society of Portrait Artists and has contributed writing for the organization's publications. Diane is also a member of the Colored Pencil Society of America, the Graphic Artists Guild, and the Illustrator's Partnership of America.
William F. Powell is an internationally recognized artist and one of America's foremost colorists. A native of Huntington, West Virginia, Bill studied at the Art Student's Career School in New York; Harrow Technical College in Harrow, England; and the Louvre Free School of Art in Paris, France. His experience as an art instructor includes oil, watercolor, acrylic, colored pencil, and pastel-with subjects ranging from landscapes to portraits and wildlife. Additionally, Bill conducts painting workshops and produces instructional videos that employ unique methods of in-depth presentation and demonstration. Bill holds awards for his technical art, which has been used for major projects, such as space programs and environmental studies. He lives in Temecula, CA.
Nolon Stacey is a self-taught graphic artist who specializes in realistic portraits of animals, people, and landmarks. As a child in South Yorkshire, England, Nolon cultivated his interest in drawing throughout school. He eventually earned a degree in mathematics from Warwick University, but he soon returned to his artistic passion. He currently lives in Boroughbridge, England, and undertakes a variety of commissioned work, ranging from portraits of people and pets to buildings and street scenes. Prints of Nolon's celebrity portraits are published through Kadinsky Art. His work also is sold through Braithwaites Gallery in York, England. Stacey lives in Boroughbridge, England.