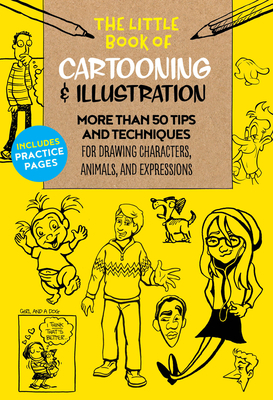 The Little Book of Cartooning & Illustration (Paperback)
More than 50 tips and techniques for drawing characters, animals, and expressions (The Little Book of ...)
Walter Foster Publishing, 9781633226203, 128pp.
Publication Date: December 4, 2018
* Individual store prices may vary.
Description
In The Little Book of Cartooning & Illustration, beginning cartoonists, animators, and illustrators will discover key concepts associated with learning the art of traditional cartooning and animation.

With this guide, dozens of tips from the pros will help you find the materials and tools you need to develop your own unique style. A combination of creative step-by-step projects and open practice areas offer encouragement and invite participation for those artists who want to put their newfound skills to immediate use.

You'll learn all the cartooning and animation tricks of the trade, including:
The squash and stretch principle
Exaggerating details
Rendering faces and expressions
Anthropomorphizing inanimate objects
Creating original characters
Mastering body shapes and movement
Writing gags and jokes
With so many tools at your disposal, why wait any longer to start animating? Get started, get drawing!

The Little Book of ... series focuses on delivering fun, approachable, and interesting art instruction in a fresh, portable format. With its contemporary design, open practice pages, creative exercises, and prompts that encourage interactivity, beginning artists learn the fundamentals of their craft, often with immediate results.
About the Author
Maury Aaseng has always been excited about drawing and art, starting with his grade school days, drawing dinosaurs and other animals in notebook margins. After graduating with a BFA in graphic design from the University of Minnesota—Duluth, Maury moved to San Diego to begin an illustration career. His work has spanned a variety of subject matter and illustration styles, including medical illustration, natural sciences, patient education, and watercolor. His artwork was featured in the Upstream People Gallery 7th Annual Color: Bold/Subtle Juried Online International Art Exhibition and at the Great Lakes Aquarium Gallery where he displayed his watercolor art in a show called Saturated Life. An avid nature enthusiast, Maury now lives in Duluth, Minnesota, with his wife and two children. Drawing inspiration from the northern forests and lakes that border Canada with his family is his greatest joy.
Clay Butler is the creator of the weekly alternative political comic strip Sidewalk Bubblegum, co-founder of Claytowne Productions documentary video production company and creator of the online PC Technology humor magazine Pctyrant (an oldie but a goodie), A darn good illustrator, cartoonist, graphic designer, web designer, concert photographer and writer, Clay has been working professionally since 1984.
Based out of Nottinghamshire, England, Jim Campbell is a professional comic-book letterer, one-time writer (perhaps again in the future!) and occasional artist (although his enthusiasm rather outstrips his actual ability).
Dan D'Addario has been drawing as far back as he can remember. It wasn't until he was in college, that one of his art instructors encouraged him to try doing caricature drawings for a High School Graduation party. He was hooked! Since then Dan has never looked back! Dan is an illustrator and caricaturist in Macomb Township, Michigan. His career spans almost 30 years as a graphic designer in the automotive field. From 1996 until 2008, Dan drew editorial cartoons for Crain's Detroit Business Magazine. 
A native of the United Kingdom, cartoonist Alex Hallat has never had any art training--just a limited attention span, a love of comics, and a tendency to doodle in lectures at college. She started cartooning fulltime in 1999 and was immediately hired as the cartoonist for Brighton's daily newspaper. In 2003, Alex immigrated to New Zealand but currently lives in the leafy bayside suburb of Elwood, Melbourne in Australia. She has clients in the UK, New Zealand, and Australia and works with the American syndicate King Features, who distributes her comic strip, Arctic Circle.
Joe Oesterle is an award-winning writer and illustrator, but what he often fails to mention is that many of those awards were won on a New Jersey boardwalk, shooting a water pistol into the mouth of a plastic clown in an effort to be the first to pop the balloon.He has worked as the Art Director of the Teenage Mutant Ninja Turtle apparel division, and performed double duty as Art Director and Senior Editor at the National Lampoon. His work has appeared in television, radio, books, magazines, and web sites.Among his many impressive professional achievements Joe is especially proud of the fact that a humorous animated short he wrote, directed, and voiced has been on display at the Smithsonian Institution since 2001. Learn more at www.JoeArtistWriter.com.