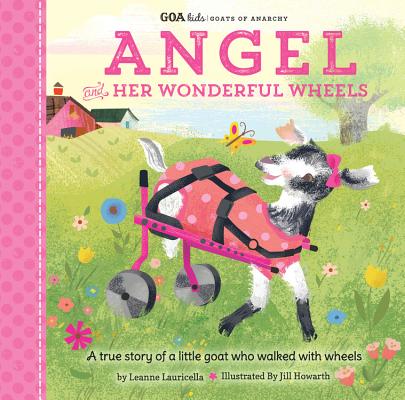 GOA Kids - Goats of Anarchy (Hardcover)
Angel and Her Wonderful Wheels: A true story of a little goat who walked with wheels
Walter Foster Jr, 9781633226746, 32pp.
Publication Date: October 2, 2018
* Individual store prices may vary.
Description
Goats of Anarchy: Angel and Her Wonderful Wheels is the heartwarming true story of Angel, the goat who learned to walk with wheels; from the Goats of Anarchy series, based on the popular Instagram account. Beautiful illustrations and heartwarming anecdotes bring this real story to life.

Discover the story of Angel, a baby goat who is different from the others. Angel, who can't walk like other goats, is rescued by Leanne Lauricella, founder of the Goats of Anarchy animal sanctuary. With Leanne's help, Angel gets a new set of wheels—a pink cart that helps her learn to walk, run, and play. Even though it was hard at first, Angel took one step, and then another. Soon she was walking on her own, and with practice, she walked faster and faster. Eventually, the little goat was happily running from one end of the house to the other!

Children and adults will love this endearing story about overcoming adversity that reminds us that we are all uniquely beautiful, including what makes us different from others. Follow along with Angel as she makes new friends on the farm and finds a loving family to be her forever home.

Real-life pictures of Angel, Leanne, and their Goats of Anarchy family are also featured at the end of this 10.5 x 10.5-inch hardcover book, along with behind-the-scenes details from the author on how Angel is doing now.

This heart-warming story of overcoming adversity is sure to delight animal lovers of all ages.
About the Author
Leanne Lauricella knew nothing about animal sanctuary life when she left New York City for the wilds of New Jersey. She started her Instagram account @goatsofanarchy in 2014, shortly after getting her first two goats, Jax and Opie. Over 570,000 Instagram followers and three Webby Awards later, Goats of Anarchy has evolved into a non-profit organization that teaches acceptance and inclusion and provides special-needs goats a happy and loving forever home. Today, Leanne somehow finds time to write about everyday life at her sanctuary while caring for her goat family. She shares with the world her goats' inspiring stories in the books Goats of Anarchy and Peace, Love, Goats of Anarchy and the children's books Polly and Her Duck Costume, The Goat with Many Coats, Piney the Goat Nanny, and Angel and Her Wonderful Wheels. Goats of Anarchy wall calendars provide a daily reminder of these inspiring stories.

www.goatsofanarchy.com
Instagram: @goatsofanarchy
Facebook: @thegoatsofanarchy
Born in a tiny town in the hills of Pennsylvania, Jill Howarth always wanted to be an artist. She graduated from Penn State University with a degree in graphic design and entered the corporate design world. As a senior designer and then art director at Hasbro Toys, she occasionally embellished product packaging with fun little drawings. More requests for these illustrations came her way and before she knew it, she was doing more drawing and less layout design. After leaving corporate life to start a family, she began freelancing, pursuing her passion for hand lettering and illustrating for the children's market with clients such as American Greetings, Hallmark, Klutz, Penguin, Pottery Barn Teen, Scholastic, and more. Presently, she lives just west of Boston.